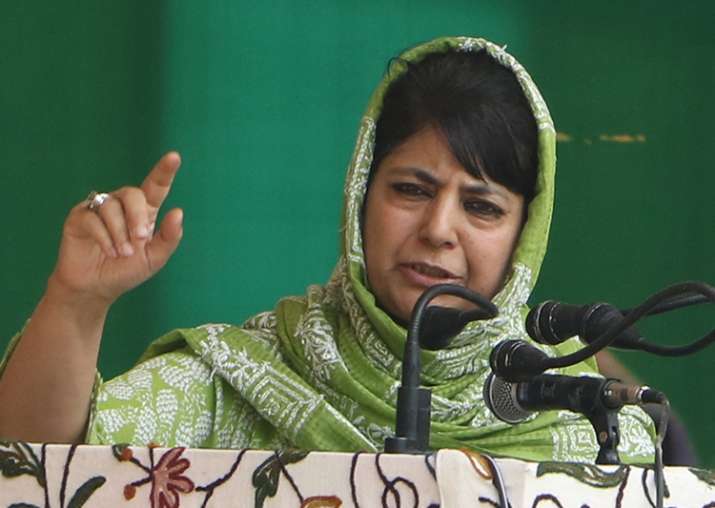 Amid a fresh clamour for the abrogation of Article 35-A of the Constitution, Jammu and Kashmir Chief Minister Mehbooba Mufti today said the special status enjoyed by the state needed to be protected and preserved.
Article 35-A of the Constitution empowers the state's legislature to define its "permanent residents" and accord special rights and privileges to them.
"The legislature of the state enjoys huge powers unlike any other state assembly. We need to preserve and protect this status," Mehbooba told a public meeting after inaugurating the Randakdaji-Jawalapora-Gaffarabad road in central Kashmir's Budgam district.
On the GST legislation passed by the Jammu and Kashmir Assembly, she said that the state had enacted its own law.
"The guarantees carried in the Presidential Order (on GST) reflect the special status Jammu and Kashmir enjoys within the Constitution of India," she said.
The chief minister said that the opening of historic routes along the Line of Control (LoC) in the state, frequent exchange of students, artists and other groups would bring a lasting peace in the state by promoting more people to people exchanges.
Mehbooba said only a conducive and peaceful atmosphere can lead the state to prosperity and resolution of the issues.
"The government has taken up several development programmes this year which could not be taken up last year due to unrest. The government has taken up developmental activities in areas which so far have remained neglected," she said.
The Randakdaji-Jawalapora-Gaffarabad road is to be built at a cost of Rs 15.05 crore and it would be completed in two years.
With the completion of the road project, the connectivity to Doodhpathri and Tosa Maidan tourist destinations would be improved.
The chief minister also visited Khag where she laid the foundation of a 10-km Khag-Aripanthan road to be upgraded from the present single lane to double lane at a cost of Rs 13.08 crore. It would be completed by next year.
Later, the chief minister also laid the foundation of a modern health centre at Khag to be set up by the Government Medical College, Srinagar at a cost of Rs 5.28 crore.
She announced setting up of a fire station, a tourist facility in view of the scenic beauty of the area, and development of a sports field there.
These demands were raised by the locals with the chief minister.
The chief minister also visited Magam where she inaugurated a degree college. Built at a cost of Rs 9.83 crore, the college for 1,500 students has academic, administrative and library blocks.