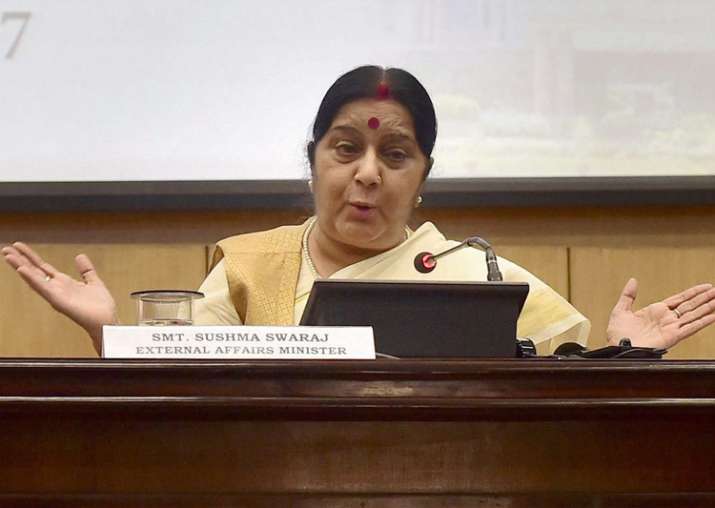 India will "101 per cent" raise with China the issue of airspace violation by PLA helicopters in Uttarakhand, External Affairs Minister Sushma Swaraj said today.
"For the first time, a matter of airspace violation has taken place. We will 101 per cent raise this issue with China, but it has not been decided on how we will go about it," Swaraj said at a briefing in New Delhi. 
Two helicopters of the People's Liberation Army of China hovered over Chamoli district on Saturday, triggering concern in India's security establishment about the People's Liberation Army's (PLA) fourth such incursion into Indian airspace since March this year. 
Official sources in New Delhi said the choppers, which returned to the Chinese side after about five minutes, could have carried out aerial photography of Indian ground troops during what was possibly a reconnaissance mission. The choppers were identified as the Zhiba series of attack helicopters. 
The Indian Air Force (IAF) is probing the incident. 
However, the action was defended by China, which asserted that India and China have a territorial dispute in the eastern section of their boundary and the Chinese military carry out regular patrolling in the relevant areas. 
Swaraj said whenever there is an incursion of land, they give a logic that borders have not been settled and this happens due to different perceptions of the border. 
Asked about India's position on China's 'One Belt One Road', a mega unilateral connectivity project, Swaraj said, "We, in principle, agree with the concept of connectivity. When China had not conceptualised about OBOR, India had several such initiatives" and "India does not have any issue with (OBOR and CPEC) connectivity, but with its principles." 
Referring to India-assisted projects like Kaladan Multi-Modal Transit Transport Project that will connect the northeastern states of India to Myanmar, BBIN (Bhutan, Bangladesh, India and Nepal) projects, Chabahar port (in Iran), she said they were done considering basic principles of sovereignty or territorial integrity of countries involved. 
"These are some principles we put forth during OBOR. I am happy that when (OBOR) meet took place, several nations put forth the same concerns. Which is why I think China will be again compelled to rethink on this," she said. 
She said China-Pakistan Economic Corridor (CPEC), which is part of OBOR, is directly related to India's sovereignty and territorial integrity. 
"We have reiterated it several times that Kashmir is an integral part of India. We have a Parliament resolution on this. If any part of the road (CPEC) passes through (PoK) it compromises our sovereignty. We have registered our protest there," she added.