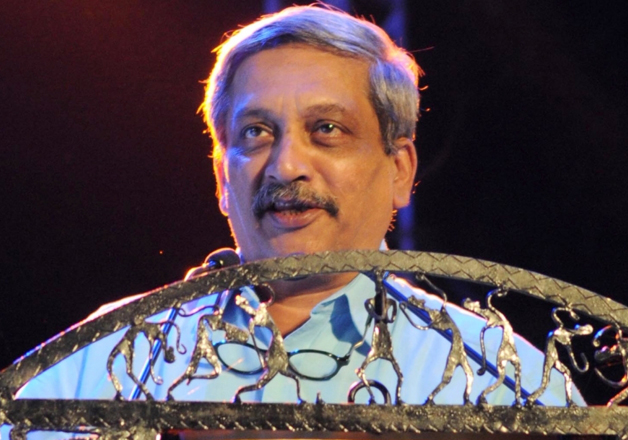 Stressing that it was his personal view, Defence Minister Manohar Parrikar on Thursday said that India should say it will use its nuclear powers 'responsibly' instead of stressing on 'no first use'.
"Why lot of people say that India is for 'not first use'... Why should I bind myself? I should say I am a responsible nuclear power and I will not use it 'irresponsibly'," Parrikar said while speaking at the launch of Brigadier (retd) Gurmeet Kanwal's book The New Arthashastra.
The minister himself, as well as Defence Ministry spokesperson Nitin Wakankar clarified that the comments were his personal opinion, and did not reflect government policy.
"It is not change in any government policy, I am also an individual. As an individual, I get this feeling sometimes. Why should I say I am not going to use it first. I am not saying you have to use it first just because you don't decide that you don't use it," Parrikar said.
"What Defence Minister Manohar Parrikar said was his personal opinion and not official position. What he said was that India being a responsible power should not get into first use debate," the Ministry of Defence said in a statement.
Parrikar also noted that 'he used to get threats from his counterpart in a neighbouring country every few days, but has got none since the surgical strike'. 
"I used to get threats from the Defence Minister of a neighbouring country every four-five days that they are going to use tactical nuclear weapons. From the day surgical strike happened, no threat has come," he said.
"When they realised we can do something which is not well defined, ultimately the written defence strategy does not mean you have to follow it. It should be your guideline. The concept which said 'Be unpredictable' has to be there. That is our strategy as well," he added.
Parrikar's remarks triggered a controversy with Congress party saying that the Defence Minister has no authority to speak in personal capacity at a public function.
"He reflects the thrust and intent of India's national security policy. If India's policy on NFU has to be changed, it must be decided after deliberation with the government and stated publicly. Casual, immature and off-the-cuff remarks by India's Defence Minister, for which he has become famous, are not in India's interest," Congress spokesperson Randeep Surjewala said.
Calling it a most irresponsible comment coming from the Defence Minister, CPM general secretary Sitaram Yechury said, "It runs against India's ethos of seeking a nuclear-free world. When a minister speaks, it has to be the considered opinion of the government. This statement would be taken indignantly by the rest of the world and hurt India's interests globally."
Former Jammu and Kashmir chief minister Omar Abdullah the 'no-first-use' of nuclear weapons has been the corner stone of the country's nuclear policy which has allowed it to lay claim to being a responsible power. 
"No first use has been the corner stone of our nuclear policy & allowed India to lay claim to being a responsible power after Pokhran 2," Omar said.