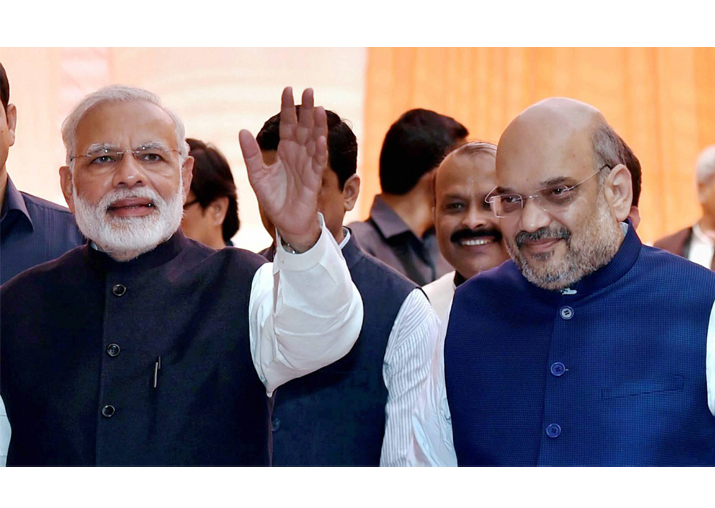 Prime Minister Narendra Modi today called for a debate on internal democracy in political parties, asserting that the growth of "true democratic spirit" within them is necessary for the country's future. 
Modi made these remarks in a brief speech to the media at a 'Diwali Milan' event at the BJP headquarters as he pointed out that funding to political parties is often debated but not their values, ideologies, internal democracy and how they give opportunities to the new generation of leaders. 
The country, he said, is not much aware of the practise of democracy within parties and the media should turn its attention to it.
PM Narendra Modi with BJP president Amit Shah and other BJP leaders during the Diwali Mangal Milan programme at BJP headquarters in New Delhi

PM Narendra Modi with BJP president Amit Shah during the Diwali Mangal Milan programme at BJP headquarters in New Delhi

PM Narendra Modi with BJP president Amit Shah poses for a group picture with photo journalists during the Diwali Mangal Milan programme at BJP headquarters in New Delhi

PM Narendra Modi being felicitated by BJP president Amit Shah during the Diwali Mangal Milan programme at BJP headquarters in New Delhi

PM Narendra Modi addressing during the Diwali Mangal Milan programme at BJP headquarters in New Delhi

PM Narendra Modi with BJP president Amit Shah during the Diwali Mangal Milan programme at BJP headquarters in New Delhi

PM Narendra Modi with BJP president Amit Shah during the Diwali Mangal Milan programme at BJP headquarters in New Delhi