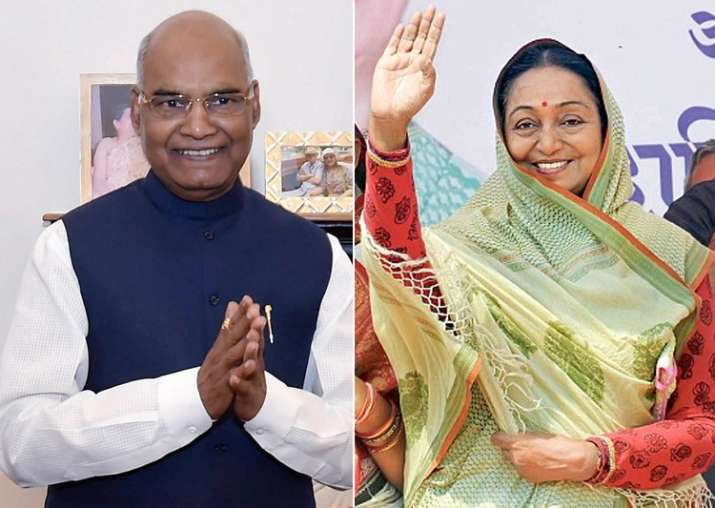 With the opposition parties announcing former Lok Sabha speaker Meira Kumar's candidature for the President of India, the election for the top constitutional post in India is heading for an interesting fight. The race to the Rashtrapati Bhavan just turned into My Dalit vs Your Dalit. With NDA having shown faith in the former Bihar Governor Ram Nath Kovind, a Dalit hailing from UP for the coveted post, the decision of the opposition to field a Dailt comes as no surprise. It is how things move from here that may well be.
Kovind's selection was termed as " masterstroke" by Prime Miniter Narendra Modi and BJP president Amit Shah. It was said then that political parties in India – where caste matters more in elections over jobs, health care, education and other important issues – would find it tough to oppose a Dalit face. "Meira Kumar has been unanimously chosen as Opposition's presidential candidate by 17 political parties," senior Congress leader Ghulam Nabi Azad told reporters here. 
The opposition's move to project another Dailt, though expected, now levels the "contest". The decision by the opposition now turns the contest into one of political strategy and backroom negotiations. The most difficult choice, perhaps, would be for Bihar Chief Minister Nitish Kumar. Kumar, who continues to 'flirt' with his former alliance partner BJP, supported Kovid, citing his association with Bihar. Now, Kumar may have to rethink his decision – his choices are a real Bihari and a non-resident Bihari.  
Kumar, 72, is a prominent Dalit who traces her roots in Bihar's Sasaram. Besides, she is the daughter of former Deputy Prime Minister Babu Jagjivan Ram, a towering Dailt face in the then national and state politics.  She was elected unopposed as the first woman Speaker of Lok Sabha and served from 2009 to 2014. Among both the Dailts, the lawyer and a former diplomat, towers over Kovind, whom people faintly remember for making former CM Lalu Prasad Yadav's son Tej Pratap take his oath of office and secrecy twice during the oath taking ceremony of Nitish Kumar in Patna. Meira, on the other hand, became a household name with her ever- smiling face and her composure during the worst of the parliamentary sessions.
She had served as a Cabinet minister in the Ministry of Social Justice and Empowerment of Manmohan Singh's Congress-led Government (2004–2009). Minutes after the announcement of her candidature, former UP CM and prominent Dailt leader Mayawati, who had earlier said she could not oppose Kovind's candidature as he was a Dalit, today offered her support to the opposition's candidate. Irrespective of the winner, the country will now once again have a Dailt as the President of India. If Kovind wins, he would give UP its first president. If Kumar manages to pull off a surprise, she would make the second female President of the country. A back of the paper calculation shows that the candidature of Ram Nath Kovind, as of now, has well above the 50 per cent of total eligible votes and his win is almost certain on July 20, when India gets his new president.