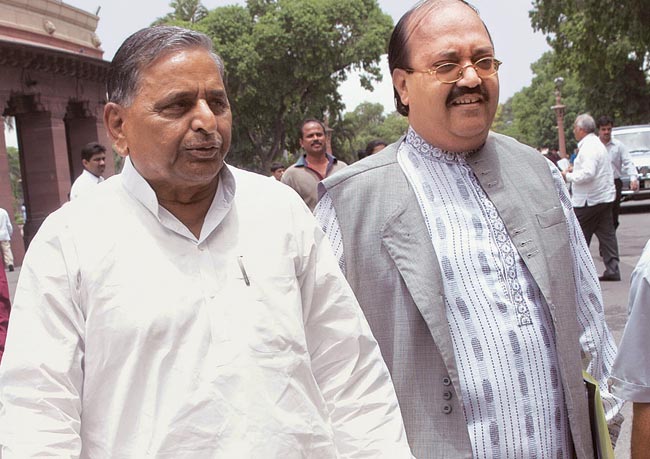 In a clear signal that he is the real boss of the Samajwadi Party, Mulayam Singh Yadav today appointed Amar Singh as the national general secretary of the party.
Mulayam Singh Yadav, the national president of Samajwadi Party, has rehabilitated Amar Singh in the party a few months after he was sent to the upper house of the parliament.
The appointment of Amar Singh as the national  general secretary is being seen as a snub to the UP Chief Minister Akhilesh Yadav who had recently accused Amar Singh of interfering in the internal matters of "Yadav family". 
Amar Singh's appointment comes days after Mulyam Singh Yadav appointed his brother Shivpal Singh Yadav as the new state president of Samajwadi  Party, replacing Akhilesh Yadav.
Amar Singh is perceived to be close to both Shivpal Singh Yadav and Mulayam Singh Yadav.
Both Shivpal Singh Yadav and Mulayam Singh Yadav have made it very clear that they do not agree with Akhilesh's  views on Amar Singh.
Shivpal recently said that Amar Singh has always stood with the Yadav family and that he will never cause any harm to any member of the family. Even Mulayam Singh Yadav said that one should not forget that Amar Singh stood by him during his bad days.

 

On Monday,  Shivpal Singh Yadav expelled seven youth leaders of the party who had demonstrated outside the residence of party chief Mulayam Singh Yadav demanding re-instatement of Akhilesh Yadav as the state party chief. All the seven leaders are considered close to Akhilesh Yadav.