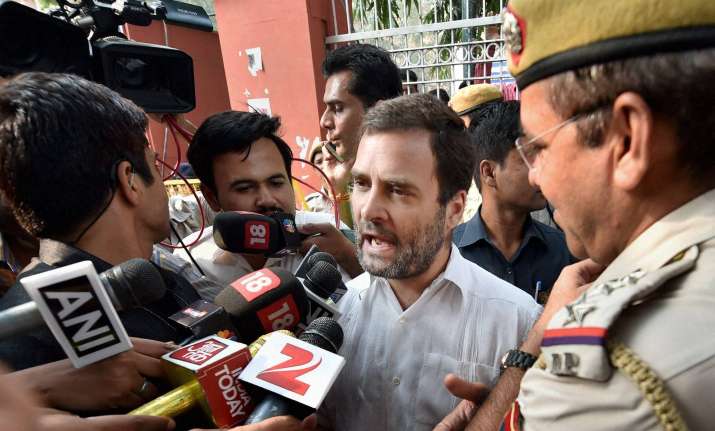 An ex-serviceman allegedly committed suicide by consuming poison over the issue of One Rank One Pension scheme (OROP) here, triggering a political row right at the heart of national capital.
The 70-year-old ex-serviceman Ram Kishan Grewal from Haryana's Bhiwani district ended his life in the lawns behind the Jawahar Bhavan, which houses the Ministry of External Affairs, last evening. 
Here are 10 developments:
1- Following the death of the ex-soldier, Congress vice-president Rahul Gandhi rushed to Ram Manohar Lohia Hospital where Grewal's body was kept but was not allowed to meet the family of the deceased. The deceased personnel's body was later shifted to Lady Hardinge hospital.  
2- Rahul was detained by the police in the process for causing "obstruction of health services" and was taken to the Mandir Marg Police Station. He was let off after a 70-minute detention.
3- Speaking to reporters outside RML Hospital, Rahul wondered whether democracy works in this fashion. "What kind of country is this? What kind of country you are trying to make?" asked a visibly upset Rahul Gandhi. 
4- Deputy Chief Minister Manish Sisodia managed to enter the hospital remises and meet the family members of the deceased, before being detained by the police. 
5- Sisodia said he went there to meet the family of the ex-serviceman and not to protest and wondered why it was a crime. "What is wrong if a politician goes to meet grieving family of a former soldier. What is the purpose of arresting the family of ex-serviceman?" Sisodia asked. 
6- Delhi Chief Minister Arvind Kejriwal said Prime Minister Narendra Modi was "lying" when he said OROP was implemented and termed it as a "major deceit" with the veterans. 
7- "He is lying to the entire country. If it was implemneted then why Ram Kishan had to commit suicide? The extent of the deceit of the BJP government over the issue, don't think it has happened before. The army is being deceived and misused for political gains. His martyrdom should not go in vain," the Delhi Chief Minister said. 
8- Commenting on Rahul's detention, Home Minister Rajnath Singh said that he did not have anything to say and police would do whatever it has to for risk reduction.
9- Defence Minister Manohar Parrikar said he was saddened over the death of Grewal. "Saddened by the death of subedar Ram Kishen Grewal. I express my heartfelt condolences. I have asked officials to provide me with details," Parrikar said in a tweet. 
10- Union Minister and former Army Chief General VK Singh said OROP must be kept away from politics and Rahul Gandhi should not politicise the issue. He also cited the need for an investigation into the suicide, saying "don't know what his mental state was" and it needs investigation.