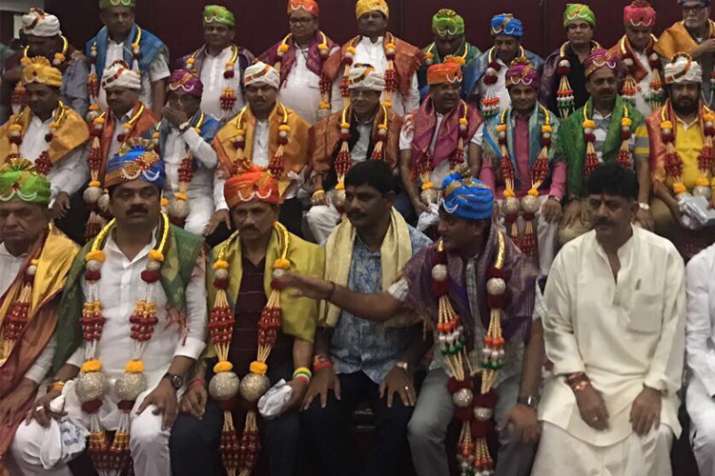 The 44 legislators of Gujarat Congress, who were lodged at a resort near Bengaluru to make sure that they do not shift their loyalty to BJP ahead of the Rajya Sabha elections on August 8, returned to Ahmedabad on Monday to cast their votes. 
Earlier visuals of Gujarat Congress MLAs onboard flight to Ahmedabad; now they've been taken to a resort #Gujarat. pic.twitter.com/Tvm3kYT9wn

— ANI (@ANI) August 7, 2017
All the MLAs, who were staying at Bengaluru's Eagleton Resort, arrived at Kempegowda International Airport in the wee hours of Monday.
As the MLAs started coming out from the domestic terminal amid tight security, police personnel escorted them to the private buses which immediately left for Nijanand resort on Borsad-Anand highway. 
#Gujarat Congress MLAs being taken to a resort near Ahmedabad. pic.twitter.com/ADrnqtG6nd

— ANI (@ANI) August 7, 2017
DCP Parikshita Gurjar said that 1 DCP, 4 ACPs, 4 PIs and 95 armed police personnel will escort the 44 Congress MLAs to the resort on Anand -Borsad highway.
Senior Congress leader Ahmed Patel said that the party is confident of victory, claiming that all the MLAs are with them. 
We are confident of victory, all MLAs are with us: Ahmed Patel,Senior Congress leader on Gujarat Rajya Sabha polls pic.twitter.com/XHwlgqkvLb

— ANI (@ANI) August 7, 2017
Congress Member of Parliament (MP) D.K. Suresh on Sunday said that the Gujarat Congress is united and all the 44 Members of Legislative Assembly (MLAs) are ready to vote for Ahmed Patel in the election scheduled for August 8.
"All of them (Gujarat Congress MLAs staying in Bengaluru resort) are happy, tomorrow or day after tomorrow they may leave," said Suresh, adding, "Gujarat Congress is united, MLAs want to vote Ahmed Patel and will get back seat of Congress." 
The Gujarat Congress had sent 44 of its MLAs here on July 29 to fend off the "poaching" attempts by the BJP, ahead of the August 8 Rajya Sabha poll in that state, in which Ahmed Patel, the political secretary to Congress chief Sonia Gandhi, is contesting. Patel is seeking a fifth Rajya Sabha term from Gujarat.
Six of the 57 Congress MLAs in Gujarat have quit the party recently with three of them joining the BJP on July 28. Ahmed Patel requires 45 votes to win the election. Though the Congress has claimed it has the support of 44 MLAs, remaining seven of the party's 51 legislators, who are not in Bengaluru, have not put their cards on table yet.