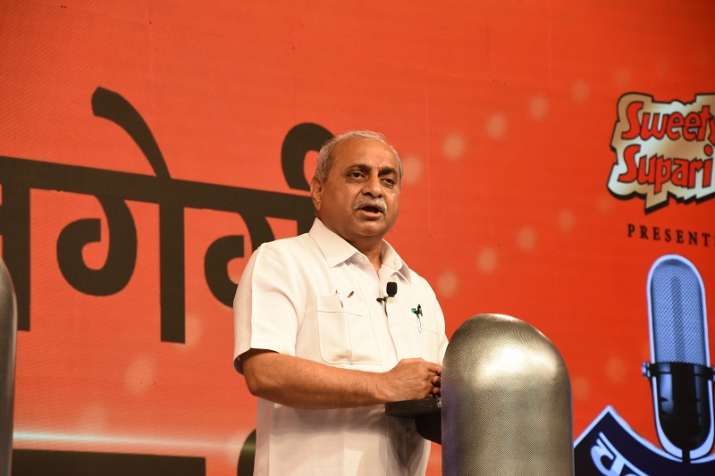 Accusing the Congress of creating a rift between various communities to gain power, Gujarat's Deputy Chief Minister Nitin Patel on Monday claimed that the Sonia Gandhi-led party would not hesitate to join hands with terrorists like Hafiz Saeed to win the elections.
"If Congress feels that they can win the Assembly polls in Gujarat by joining hands with Pakistan based terrorists, like Hafiz Saeed or any other such terrorists, they would send them invitation without any hesitation," Patel said while reacting to OBC leader Alpesh Thakor's induction into Congress.
Thakor on Monday joined the Congress in presence of Congress vice-president Rahul Gandhi ahead of the state assembly polls.
Congress reacted strongly to Patel's remark and said this was the BJP's fear of losing the election.
"Fear to lose power has gripped the BJP and that is why they are talking like this. Terrorist Masood Azhar was freed by the BJP. Nitin Patel has lost his mental balance," Gujrat Congress spokesperson Manish Doshi said.
Patel had said the Congress was once again trying to repeat its KHAM theory to win Gujarat. KHAM stands for Kshatriya, Harijan, Adivasi and Muslim. This theory was introduced by former Chief Minister Madhavsinh Solanki in the 80s to create a loyal vote bank for the Congress.
Commenting on Monday's rally by Rahul Gandhi, Patel claimed that there was no mention about Patidars or any other non-reserved classes in any of the speeches delivered by Gandhi or any of the local Congress leaders, which according to him, hints at the repetition of theory.
"During today's programme, no Congress leader uttered a word about Patidars or any other general castes. Even Rahul Gandhi did not say anything about the Patels. All the leaders just stressed on SCs, STs, OBCs and Muslims. This is akin to their KHAM theory, introduced by Madhavsinh Solanki," Patel said.
"Due to that KHAM theory, Gujarat witnessed several riots and agitation. It had diluted the peaceful atmosphere of the state. Now, after hearing todays speeches, I believe that Congress wants to tread that path again, as they want to gain power by dividing the society," he alleged.