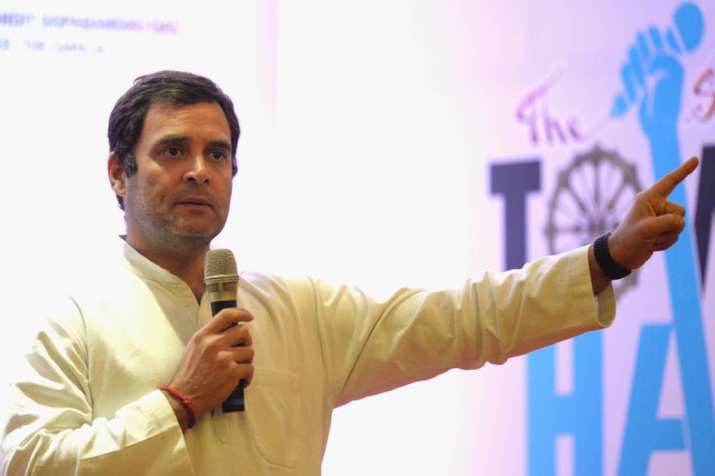 Congress President Rahul Gandhi on Friday said that he feels like hugging Prime Minister Narendra Modi whenever he "abuses" him. Acknowledging the difference of opinion between the two, the Gandhi scion said even though both of them have disagreements but he does not hate the prime minister. 
"The best thing that happened to me as a politician & human being was the abuse I got from BJP & RSS, it has been the biggest gift they could give me," Gandhi said at an interactive session at 'The Odisha Dialogue' in Bhubaneswar. 
"I look at Mr Modi when he abuses me and I feel like giving him a hug. I realise he (PM Modi) disagrees with me & I disagree with him, and I will fight him and I will try and make sure that he is not the prime minister but I don't hate him. I give him the right to have his opinion," he added. 
Taking a dig at the RSS, the Congress scion said; "You currently have one institution called the RSS that believes it should be the only institution in the country".
Rahul gandhi shared his views on wide range of topics, including jobs, state of economy and related issues. During the interaction, the Congress leader also alleged that the government was trying to sideline Right to Information (RTI) and Lokpal. "Things like the RTI and Lokpal have been sidelined and ignored. RTI empowers the people of the country. It actually is a weapon of the people, which ensures that there is accountability in the bureaucracy," he said.
He stated that what happened in the last five years was unheard of and devastating. "We believe that India should be run by its 1.2 billion people. We believe that one ideology should not run this country... other ideologies should also be allowed to flourish".
The Congress scion's visit comes close on the heels Prime Minister Narendra Modi's back-to-back visits to the state.
Gandhi's tour follows Modi's three visits to the state since December, the latest being on January 15 to the western Odisha town of Balangir.
Modi's high-profile tours will be followed by Bharatiya Janata Party (BJP) president Amit Shah's tour on January 29 and February 3, a senior party leader said.
FULL VIDEO: