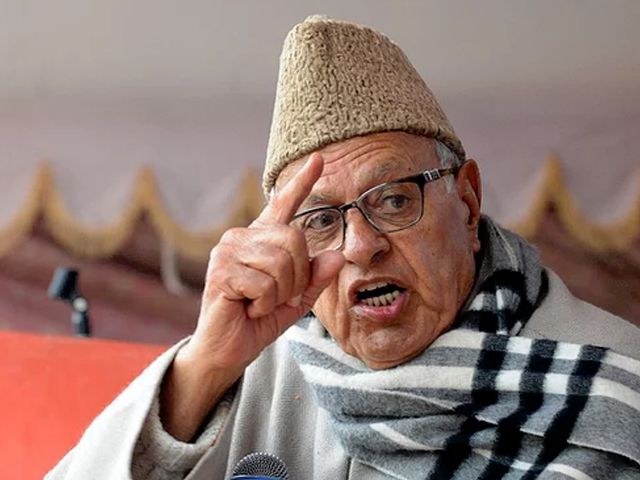 National Conference chief Farooq Abdullah on Wednesday reiterated his controversial stand on Pakistan-occupied Kashmir (PoK) and said that India should give up on the pursuit of acquiring Pakistan-occupied Kashmir (PoK) and merging it in its territory. 
"For how long will we keep shedding the blood of the innocent people and keep saying that it (Pakistan Occupied Kashmir) is our part? It's not the property of their father.  Seventy years have passed. That is Pakistan, this is India. They (India) haven't been able to acquire it in 70 years. Today, they say that it is part of their territory," Farooq Abdullah was quoted as saying by the news agency ANI.
Kab tak begunahon ka khoon behta rahega aur hum ye kehte rahenge ki wo hamara hissa hai? Wo inke baap ka hissa nahi hai. 70 saal ho gaye hain. Wo Pakistan hai, ye Hindustan hai aur 70 saal se ye usko haasil nahi kar sake. Aaj kehte hain ye hamara hissa hai: Farooq Abdullah in Uri pic.twitter.com/iabCHWaFCC

— ANI (@ANI) November 15, 2017
Farooq Abdullah made these remarks while addressing a gathering in Uri.
Slamming Abdullah over his controversial remarks on Jammu and Kashmir, BJP National General Secretary Ram Madhav said that his views and opinions were unfortunate. 
"It's unfortunate that Farooq Abdullah keeps changing his views and opinions on Kashmir. Jammu and Kashmir, including those areas which are under illegal occupation by Pakistan, entirely belongs to India," said Madhav. 
"This is not the stand of any political party like the BJP alone. The only outstanding issue between India and Pakistan is to settle the status of the occupied Kashmir," he added. 
Abdullah has been advocating changing the Line of Control (LoC) into an international border and granting more autonomy to both Kashmir and PoK as part of the solution to the seven-decade old conflict. 
On November 11, Abdullah courted controversy saying that PoK belongs to Pakistan and the fact would not change no matter how many wars are fought over the issue. 
"Ours is a landlocked state between three nuclear countries including India, Pakistan and China. I, therefore, believe Azadi is not possible nor workable. The part of the state under Pakistan belongs to them as our part belongs to India," he had said. 
Farooq Abdullah further alleged that India has betrayed Kashmiris and that's the reason behind the ongoing turmoil in the state. He also claimed that peace will return to Jammu and Kashmir only if autonomy is restored to the state.
"India didn't treat us well. India betrayed us. They didn't recognize the love with which we chose to join them. That is the reason behind the current situation in Kashmir… Internal autonomy is our right. They should restore it. Only then the peace will return," he said.
He even urged the governments of both nations to come up with a model to grant greater internal autonomy for respective parts of Kashmir. 
Abdullah's comment invited criticism from various factions, particularly the BJP. 
Dismissing Abdullah's suggestion, the state unit of BJP on Sunday said that the whole of Jammu and Kashmir is part of Indian territory and Pakistan should vacate the illegally occupied territories.
"Indian Parliament has made it clear that the whole of Jammu and Kashmir belongs to India and Pakistan has to vacate illegally occupied areas," state BJP president Sat Sharma said here.
VHP leader Pravin Togadia too echoed the BJP's sentiment and said that people who harbour such ideas should leave the country and go to Pakistan.
"Kashmir is an integral part of India. People talking about independent Kashmir should go to Pakistan or else our security forces are ready with AK 47s at the border to deal with them," Togadia said.
Abdullah's remarks were criticised by the separatist groups as well.
 
Hardline separatist leader Syed Ali Shah Geelani on Sunday slammed Abdullah for dismissing talk of an independent Kashmir, saying "power-hungry" politicians have always "played deceit" with people.