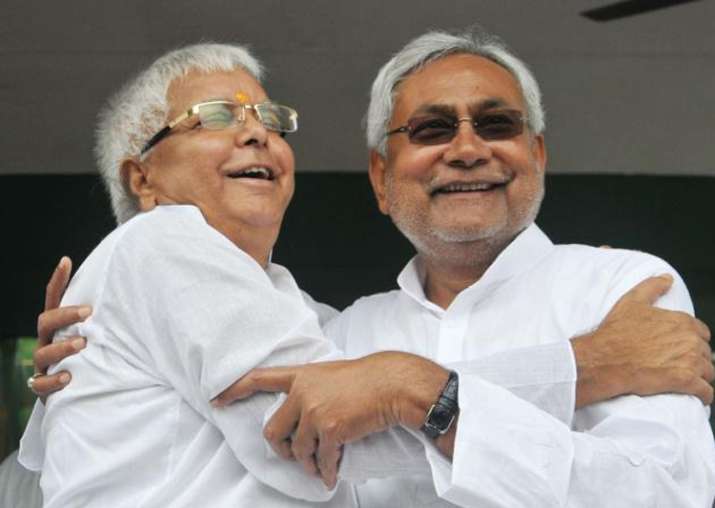 Amid a serious difference of opinion over their respective picks for the post of President within the Grand Alliance in Bihar, RJD supremo Lalu Prasad Yadav today appealed to Bihar Chief Minister Nitish Kumar not to make a 'historic blunder' by extending support to NDA nominee Ram Nath Kovind.
Calling opposition nominee Meira Kumar as 'Bihar ki Beti' (daughter of Bihar), Lalu said that his stand would have been the same – to oppose Ram Nath Kovind – even if the Congress would have decided to support him. "I can never compromise with my ideology," Lalu said.
Asking Nitish to 'mend the historic blunder' of supporting Kovind, Lalu said, "We are still treading on the path you had suggested to make the country 'Sangh-mukt'...don't know what made Kumar move away and extend support to a RSS man."
The RJD president, however, made it clear that the divergent paths taken by his party and the JD(U) would have no impact on the Grand Alliance government in Bihar headed by Kumar. "There will be no impact of this (different views of the RJD and the JD(U)) on the Grand Alliance government in the future."
Lalu also informed that he will be meeting Nitish later this evening in order to persuade him to change his decision. 
"The JD(U) had twice participated in the opposition parties meetings. But I have no clue what happened that they supported Kovind's candidature," Lalu said.
He further noted that 'Kumar is far better candidate than Kovind and is ahead of the former Bihar governor even in terms of merit.'
Bihar JD(U) president Basistha Narayan Singh reiterated the party's decision to support Kovind and made it clear that there was no going back on it. "Kovind as Governor of Bihar walked hand-in-hand with the state government on the path of development...he has displayed attachment with Bihar."
His party colleague Shyam Rajak echoed similar views. "Hum logo ne thok-baja ke faisla liya hain (we have taken a decision after meticulously taking everything into account)," Rajak, who is deputy leader in the state Assembly and member of the JD(U) core committee, which decided on Tuesday to support Kovind, said.
Nitish Kumar put the opposition in a spot with his decision to back the NDA presidential candidate despite making the first move months ago to forge an alliance of anti-BJP parties going into the 2019 general elections. The coming together of the opposition parties in backing a common candidate for President, he had argued in a meeting with Congress president Sonia Gandhi, would serve as a starting point towards greater opposition unity. 
Meanwhile, Congress minister Abdul Jalil Mastan described Kovind as "a Shiv Sena man" who harboured hardcore Hinduavta ideology. "He is a Shiv Sena man harbouring hardcore Hinduvta ideology...how can he be a clean man?" Mastan claimed. 
The presidential elections will be held on July 17. Results will be declared on July 20. The term of incumbent President Pranab Mukherjee ends on July 24.