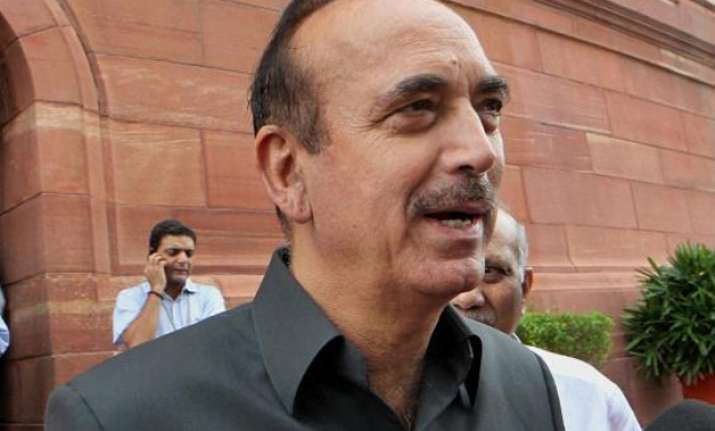 New Delhi: Senior Congress leader and Leader of Opposition in Rajya Sabha Ghulam Nabi Azad today said that he didn't compare the Rashtriya Swayamsevak Sangh (RSS) with terror group Islamic State (ISIS) and that his speech was quoted out of context.
Speaking on the floor of the House, Azad said that 'his party would fight the ISIS the way it would fight the BJP's ideological parent 'RSS'. Azad also submitted the CD of his speech to the bench and requested the BJP MPs to listen to his original speech.
"Move privilege motion against me if I have said something wrong," he said, amid BJP's demand that the leader must tender an apology.
Union Minister and Leader of House, Arun Jaitley, immediately countered Azad saying 'the senior Congress leader's remarks were not correct and he should introspect'.
"I think you gave respectability to ISIS in your speech, should have avoided that. Everyone knows ISIS is a terrorist organization," Jaitley said.
Earlier this morning, Union Minister Mukhtar Abbas Naqvi raised the issue in Rajya Sabha and said Congress party must apologize for the statement made by Leader of Opposition. "The Congress Party has come up with a brand new secular formula that is respect the unworthy and ridicule the worthy...They should apologise for it and clear their intention as to why have they compared the RSS with ISIS," he said.
Disapproving Azad's remark, Union Parliamentary Affairs Minister M. Venkaiah Naidu expressed hope that the Opposition should realise their mistake and withdraw the unwarranted statement.
"The statement was wrong, I was surprised that a person of a stature as Gulam Nabi Azad could make such a statement that shows that the Congress is more comfortable with the ISIS than the RSS. And they have given credibility and respect to that organisation, thereby encouraging divisive forces," Naidu said.
Azad is facing criticism for drawing a parallel between the RSS and terror outfit Islamic State at a meeting of religious minorities on Saturday. "The fight is not about Hindu and Muslim. It is a fight of perspectives... We are against the narrow fundamentalist mindset, whether it is of a Hindu, Sikh or Muslim. We oppose and reject the forces that are destroying the Muslim nations. We protest against ISIS-type of forces in the same measure as we protest against oppose outfits like RSS," he said.