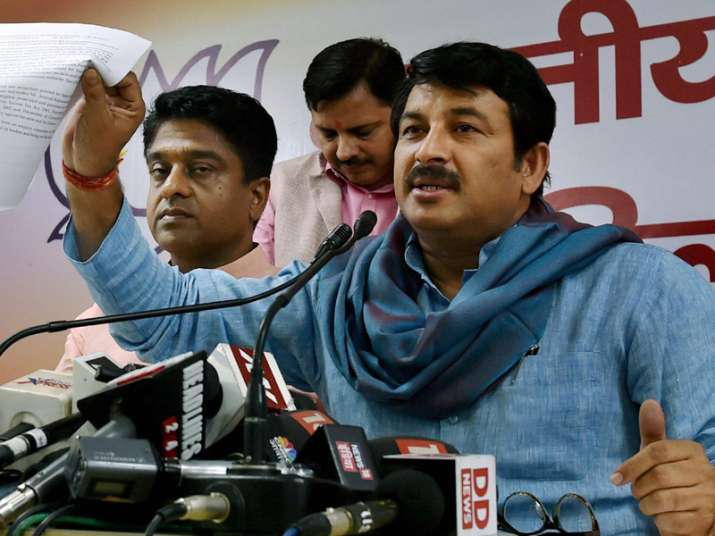 A BJP delegation led by its Delhi unit chief Manoj Tiwari today met the Election Commission of India officials here and demanded the accreditation granted to the Aam Aadmi Party (AAP) be cancelled with immediate effect.
Tiwari said that the delegation submitted a memorandum to the EC that alleges there were gross discrepancies in the figures of donation furnished by the AAP in its affidavits, party website and what it has declared to the poll body.
Addressing the media, Tiwari had said that 'there is huge difference in the figures shown in its affidavit and what the Arvind Kejriwal-led party has told the EC'.
"And, discrepancies exist in donation figures for both years, 2013-14 and 2014-15," Tiwari said.
The Delhi BJP chief, read out figures, quoting from the channel's claim.
"In 2013-14, the AAP showed a donation amount of Rs 50.64 crore in the affidavit, Rs 19.82 crore on its party website, but to the EC it said that the figure stood at only Rs 6 crore. We wonder if this missing amount was routed in the corruption cases against the party that its own (sacked) Cabinet minister has highlighted," he alleged.
The delegation also urged the EC to probe the entire accounts of the AAP. 
"Based on the string of irregularities being exposed, the EC should derecognise the party," Tiwari said. 
He further said that the BJP will continue to make our strong efforts towards building a pressure of resignation on Arvind Kejriwal for the betterment of the national capital.