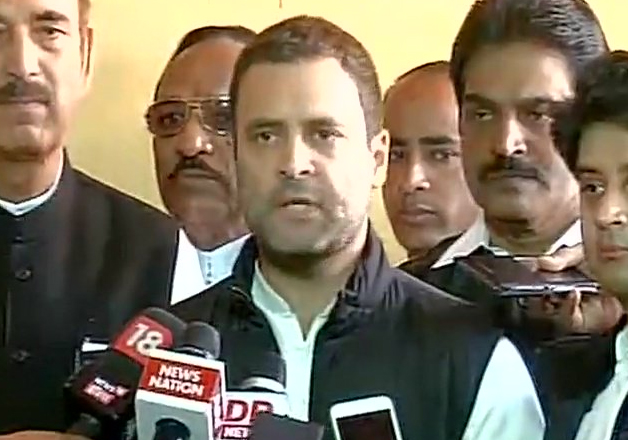 A united opposition on Wednesday upped the ante against Prime Minister Narendra Modi's continued silence and absence inside the Parliament despite growing demands for him to speak on the demonetisation issue.
Speaking to reporters here, Congress vice-president Rahul Gandhi firmly reiterated opposition parties demand that the Prime Minister must come to Parliament and sit through entire debate on demonetisation.
"Opposition parties are only demanding that PM should come and address the Parliament, why isn't he coming?" Rahul said.
He further said that the Opposition parties are firm on their demand for a JPC probe into selective leakage of information related to currency ban.
"What PM has done is world's biggest impromptu financial experiment. He didn't discuss this with anyone… this isn't FM's decision but PM's. We feel that this decision is a scam; PM had informed his close friends about this before announcement. We want JPC probe in this," he said. 
About 200 opposition lawmakers stood in a single line at the Gandhi statue in the Parliament complex today to protest against the impact on people of the government's ban on Rs 500 and Rs 1,000 notes.
Thirteen opposition parties, baring the Left and the Aam Aadmi Party, protested at Parliament's Gandhi Statue demanding answers on demonetisation. Among the protestors were leaders from the Congress, the Trinamool Congress and the BSP.
Although the Left did not join the protest, it said that it would mount a separate protest later in the day. 
CPI leader D Raja told the media that 'approaching the President is the final option if Modi did not respond to questions from the opposition'. 
The opposition parties have not allowed the Parliament to transact business since the beginning of the Winter Session. They have been demanding a debate under a rule that entails voting, and has demanded that Prime Minister be in the House.
The government, however, has said that it wanted to discuss it under Rule 193, which does not entail voting, and that minister concerned or any other person on behalf of the government will reply.