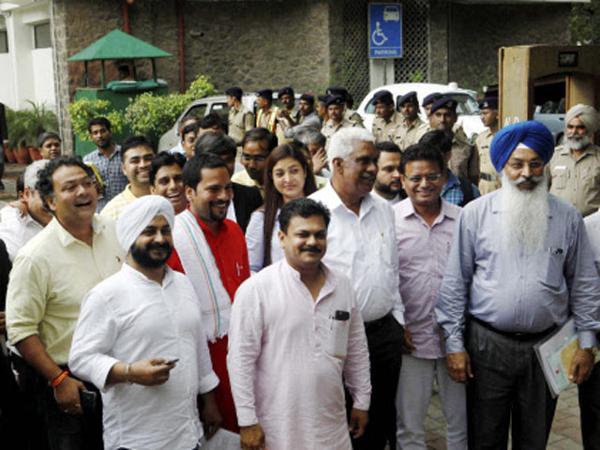 The Delhi government spent over Rs 11 lakh for furniture on 21 Aam Aadmi Party MLAs who were appointed as parliamentary secretaries by Chief Minister Arvind Kejriwal, Delhi Chief Secretary KK Sharma has apprised the Election Commission in a report on expenditure incurred by exchequer on "extending various facilities" given to the legislators.  
The Kejriwal government has maintained that these 21 parliamentary secretaries do not hold an office of profit and have not enjoyed any perks for the positions given to them.  
Sharma submitted his report on September 22 to EC on facilities extended to 21 AAP legislators being parliamentary secretaries. 
Here are the key points of the report:  
1- Public Works Department (PWD) spent Rs 11,75,828 on 21 Executive chairs-Tables, 136 Visitors chairs for 21 Rooms allotted in Delhi Assembly for Parliamentary Secretaries.
2- The Delhi Assembly had approved Rs 13,26,300 for this purpose.
3- The government spent Rs 3,73,871 to construct cabins in Delhi Secretariat for four parliamentary secretaries - Sanjeev Jha, Sarita Singh, Naresh Yadav and Jarnail Singh. Rs 2,22,500 was spent on electrical works while Rs 1,51,371 was spent on furniture. 
4- Two small rooms were provided to Alka Lamba in CPO building which was renovated by the PWD. Electricity and water bill was paid by the Department of Art, Culture and Language. 
5- Rs 15,479  was spent on Adarsh Shastri to attend a conference on Digital India in Mumbai. 
6- One room each was allotted in various Delhi Jal Board (DJB) offices to AAP MLAs - Praveen Kumar, Sharad Chauhan, Adarsh Shastri, Madan Lal, Sarita Singh 
7- Naresh Yadav, Jarnail Singh and Rajesh Rishi were alloted two rooms each various DJB offices.
8- Various rooms were also allotted to MLAs in various government bodies offices.
9- These MLAs were not provided with phone, car of driver. 
10- These MLAs served as chairman of various committees or attended the meeting of these committees as members.  
On September 8, Delhi High Court had set aside the Delhi government order appointing 21 AAP MLAs as parliamentary secretaries on the ground that it was issued without the concurrence of the Lieutenant Governor (LG). 
The detailed report of the Chief Secretary comes after he had sought details from over 100 departments of Delhi government to submit their reports on extending facilities to 21 Parliamentary secretaries.  
On September 23, the Election Commission had deferred the hearing on the plea seeking disqualification of legislators after the MLAs sought time to study the High Court judgement that set aside their appointment. 
On 8 September, the High Court set aside the appointment of 21 party MLAs as parliamentary secretaries. The court said the order to appoint them as parliamentary secretaries was given without the concurrence of the Lt Governor. Patel said the court order had no bearing on the EC adding that this was a "ploy" of the legislators to delay the matter.