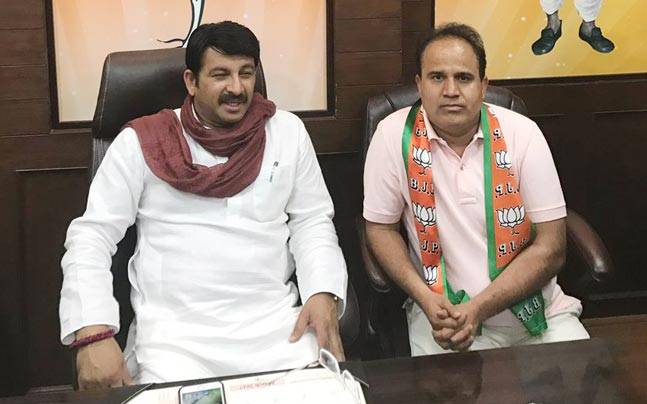 In a major setback to the Aam Aadmi Party (AAP) just ahead of the Delhi civic polls in April, its sitting MLA from Bawana Ved Prakash Satish resigned from the party on Monday to join the BJP citing the Arvind Kejriwal-led party's "failure" to deliver on the promises it had made in the run up to the 2015 Assembly elections.
The Bawana MLA said he would also resign from the Assembly and other government-run bodies. "I am going to give my resignation letter to the Assembly Speaker," he said.
The move is being seen as a shot in the arm for the BJP ahead of the civic polls in the national capital next month.
Ved Prakash joined the BJP at its Delhi unit office in the presence of Delhi BJP president Manoj Tiwari. 
"I was feeling suffocated in the AAP. They (AAP) have failed to deliver on the promises which they had made during assembly elections. There are around 35 MLAs in the AAP who are not happy with the party leadership," Ved Prakash told reporters here.
In the Bawana constituency, no work has been done by the AAP government in the last two years, he said.
He said there was discontent among the people over the AAP government's failure to address their grievances.
"The AAP has already a list of rebel MLAs which includes Devinder Sehrawat, Pankaj Pushkar and former minister Sandeep Kumar," he claimed.
The Municipal Corporation of Delhi, with a total of 272 seats, would go to polls in April 2017. The parties in the fray are Congress, BJP and AAP. 
Elections to 272 wards of north, east and south municipal corporations will be held on April 23 and the results will come out on April 25. While NDMC and SMDC have 104 seats each, EDMC has 64 seat. This will provide BJP a shot in the arm.