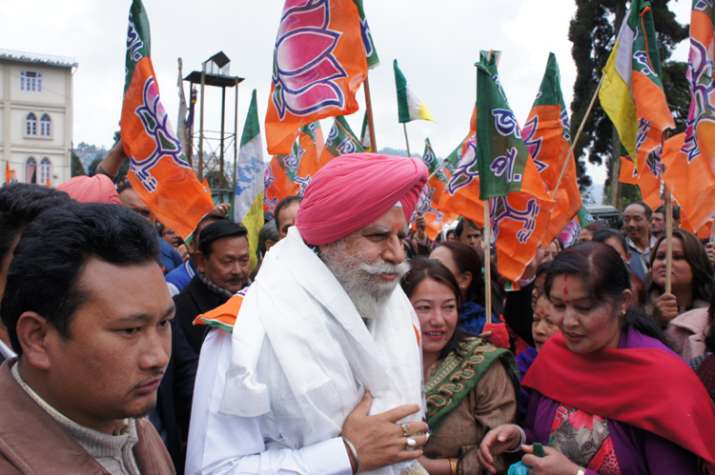 The Gorkha Janmukti Morcha (GJM), which is leading the protests in Darjeeling hills over demands of separate Gorkhaland state, today expressed its "displeasure" with the Centre and questioned the absence of BJP MP SS Ahluwalia at the time of crisis. 
"The role of alliance partner the BJP is very unfortunate and very disappointing. We had expected something positive from the Central government," Darjeeling MLA and senior GJM leader Amar Singh Rai said.  
"We feel that we are being used as pawns by the Centre and the state," he said. "We are ready to sit with the Centre anytime. But with the state, the condition would be that they withdraw all forces and allow normalcy to return as a confidence building measure. And we will sit for dialogue with Gorkhaland as the sole agenda." 
Questioning the absence of local BJP MP SS Ahluwalia, Rai said it was very "unfortunate" that he chose to stay away from his own constituency during this hour of crisis. 
"Where is Mr Ahluwalia? The MP should have been here, everyone feels the same. He should have been here in this hour of crisis. We are very disappointed with him," Rai said. 
The GJM is an ally of the BJP and it was with the help of the GJM that the saffron party won the Darjeeling Lok Sabha seat twice in 2009 and 2014. 
Meanwhile, the protests in Darjeeling remained incident-free on Sunday. However, protesters torched a public library, two panchayat offices and a police vehicle at Kalimpong.
GJM activists took out a protest march carrying the bodies of two party supporters who, they alleged, were killed in police firing on Saturday.
(With PTI inputs)