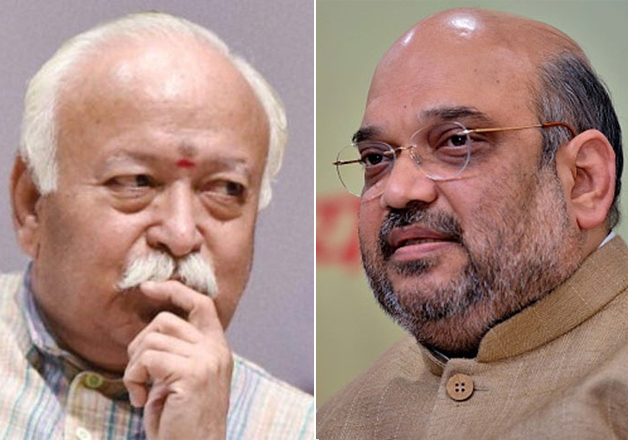 With Uttar Pradesh Assembly polls round the corner, a crucial meeting between the BJP and the RSS is underway here to chalk out a strategy for next year's polls.
According to reports, senior ministers in the Narendra Modi government, top leaders from the poll-bound states are present in the meeting.
A report in NDTV quoted a RSS functionary as saying that the coordination meeting was called to ensure the leaders of both sides remain in sync for the crucial polls.
"There is need for the BJP and the RSS to calibrate their strategy for the UP polls like we did in the Assam polls. The RSS does not want a Bihar-like situation where poor coordination impacted the outcome," the RSS leader said.
RSS believes that state leaders will play a key role in BJP's bid to capture power in Uttar Pradesh and hence it is very important to maintain a proper chain of communication with the bigwigs. 
The BJP, which is out of power in the state for 14 years now, is keen to return to power as it knows very well that this election will set the political stage for the 2019 Lok Sabha. 
Today's meeting also comes a day ahead of the BJP's 'Parivartan Yatras' in the most populous state. 
The four 'Parivartan Yatras' which will start from various corners of the state between November 5-9, will converge in Lucknow on December 24 after traversing over 17,000 km.
The first yatra will start from Saharanpur on November 5, second from Jhansi on November 6 and third and fourth from Sonbhadra and Balia on November 8 and 9, respectively. 
Prime Minister Narendra Modi will address six regional meetings, while Union Ministers Rajnath Singh and Kalraj Mishra, two leading saffron faces from the state, will be the key speaker at 10 meetings each. 
Besides, BJP president Amit Shah will address 10 other rallies. The party has planned 30 rallies of its national leaders. 
BJP allies Ram Vilas Paswan and Ramdas Athawale, two Dalit faces of the NDA, and Uprendra Kushwaha will also be joining the yatras. 
Uttar Pradesh will go to polls early next year.