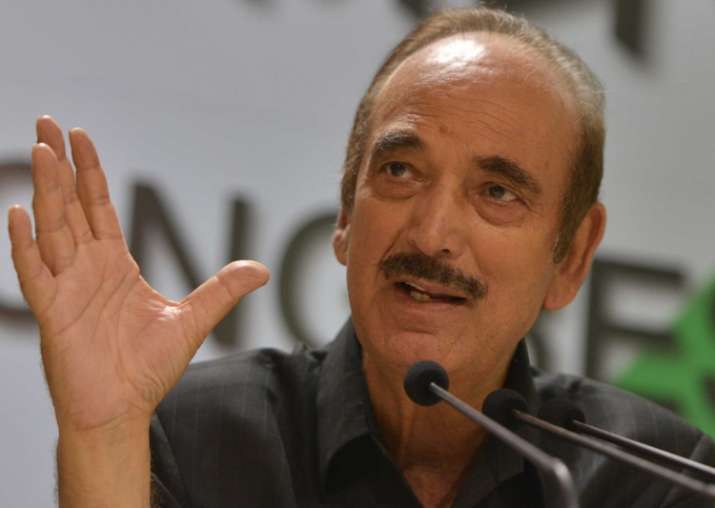 The principal opposition party Congress today cried foul over President Ram Nath Kovind giving India's first Prime Minister Jawaharlal Nehru's name a miss in his maiden address to lawmakers, CMs of states and others in the Central Hall of Parliament. Senior party leader Ghulam Nabi Azad said 'he (Kovind) mentioned the names of two ministers who were part of Nehru government, but skipped mentioning the name of first Prime Minister'. 
"Today our new President took the charge. We congratulate him. Now he is not a member of any political party, he is the President of India. He will look after everyone. But in his first address, he (Kovind) avoided mentioning the name of the country's first Prime Minister and his family who sacrificed for unity and integrity of the country. He mentioned two names of ministers from Nehruji's Cabinet, but evaded taking his name. This is very disappointing because Nehruji was a global leader." Azad said.
Another Congress leader Anand Sharma echoed a similar sentiment. He said that comparing Mahatma Gandhi with Deen Dayal Upadhyay was 'wrong'.
"We respect the President… hope he will rise above party lines and work for all. But we are a bit disappointed. It is wrong to weigh Mahatma Gandhi with Deen Dayal Upadhyay. Neither was he (Deen Dayal Upadhyay) a freedom fighter nor a national hero. Hope this will not be repeated," Sharma said.
Earlier this afternoon, Kovind  was sworn in as the 14th President of India, the first BJP leader and the second Dalit man to occupy the Rashtrapati Bhavan. He was administered the oath of office to 'preserve, protect and defend the Constitution and law' by Chief Justice of India JS Kehar in an impressive ceremony in the Central Hall of Parliament. 
The 71-year-old, who took oath in Hindi, addressed the MPs, CMs of states and others who were present on the occasion. In his brief speech, Kovind said: "Our Independence was the result of efforts by thousands of patriotic freedom fighters led by Mahatma Gandhi. Later, Sardar Patel integrated our nation. Principal architect of our Constitution Babasaheb Bhim Rao Ambedkar instilled in us the value of human dignity and of the republican ethic. These leaders did not believe that simply political freedom was enough. For them, it was crucial to also achieve economic and social freedom for millions of our people."
He also took the names of four former presidents, saying, "I am conscious I am following in the footsteps of stalwarts such as Dr Rajendra Prasad, Dr S Radhakrishnan, Dr APJ Abdul Kalam, and my immediate predecessor, Shri Pranab Mukherjee."
Bharatiya Jana Sangh (BJS) founder Pandit Deen Dayal Upadhyay's name also figured in Kovind's inaugural speech. "We need to sculpt a robust, high growth economy, an educated, ethical and shared community, and an egalitarian society, as envisioned by Mahatma Gandhi and Deen Dayal Upadhyay ji. These are integral to our sense of humanism. This is the India of our dreams, an India that will provide equality of opportunities. This will be the India of the 21st century."
Ram Nath Kovind is the first with RSS-BJP background to occupy Rashtrapati Bhavan.