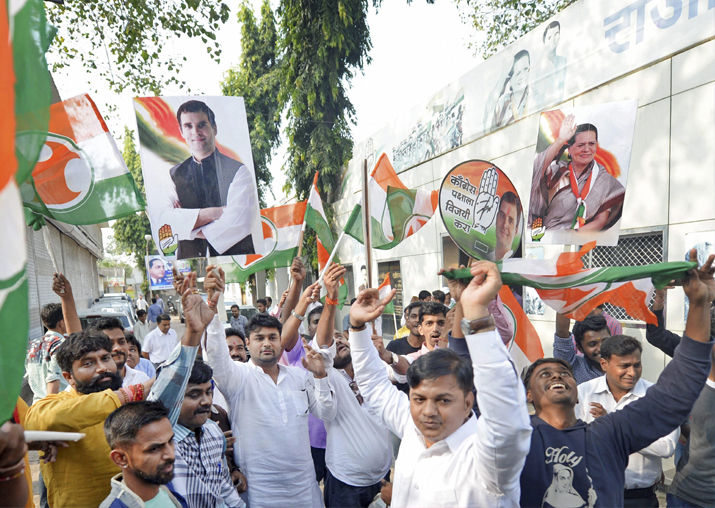 Rahul Gandhi's elevation would help the Congress to re-emerge as the country's leading political party, Punjab Chief Minister Amarinder Singh said today while his Himachal Pradesh counterpart Virbhadra Singh felt it would infuse new energy. 
In Patna, Congress workers led by acting state chief Kaukab Qadri distributed sweets while those in other state units also hailed Rahul Gandhi's unopposed election as the party chief. 
In Dehradun, Congress workers danced to drum beats as they claimed the "generational shift" will breathe a new life into the party. 
In Dharamshala, Virbhadra Singh congratulated Rahul Gandhi and said the change would not only infuse new energy and enthusiasm in the party but also would go a long way in encouraging party cadres. He also thanked Sonia Gandhi, the outgoing party chief for leading efficiently. 
Punjab Chief Minister Singh said Rahul Gandhi's elevation would "trigger the next phase of the party's growth". 
In a statement, the chief minister said he expected the Congress to not only undergo a massive revival but also embark on its next growth trajectory. 
"Rahul's charisma and appeal, combined with his intellect and inquisitive nature, were just the recipe needed by the Congress to embrace success across the country," he said. 
The infusion of young blood will lead to the re-emergence of the Congress as country's leading political party, and the only one which could help protects its secular and democratic fabric, he added. 
In Bhopal, Congress leaders and workers at Indira Bhavan, the Congress' state headquarters, celebrated the news by distributing sweets and bursting crackers. Madhya Pradesh Congress Committee chief Arun Yadav expressed confidence that the Congress will scale new heights under Rahul Gandhi's leadership. 
In Panaji, the Congress's Goa state unit also lauded Rahul Gandhi. 
"The Goa Pradesh Congress Committee and Congress Legislative Party congratulates Rahul Gandhi for being elected to the post and we wish him all the good luck and support to take the party ahead, " Leader of Opposition Chandrakant Kavlekar told reporters near here today.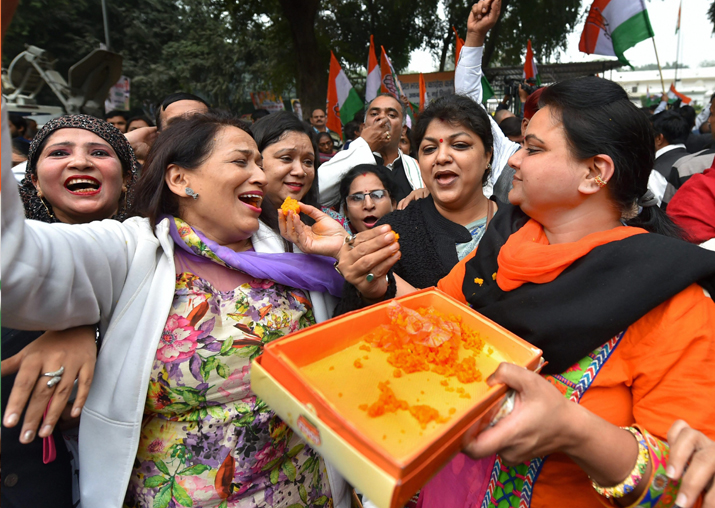 West Bengal Congress also hailed the election of Rahul Gandhi. 
"We congratulate Rahul Gandhi for being elected as our party president. We are confident that he will infuse new energy into the party and under his leadership Congress will attain new heights," senior Congress leader and Leader of opposition in state Assembly Abdul Mannan said.
Mannan hoped that under Rahul Gandhi's leadership, Congress would put up a strong fight against the onslaught of BJP-RSS and will preserve the country's democratic and secular tradition. 
Celebrations were held in Congress offices in other states as well. 
Rahul Gandhi, 47, was today announced elected unopposed as Congress president and would officially take over from his mother Sonia Gandhi on December 16.