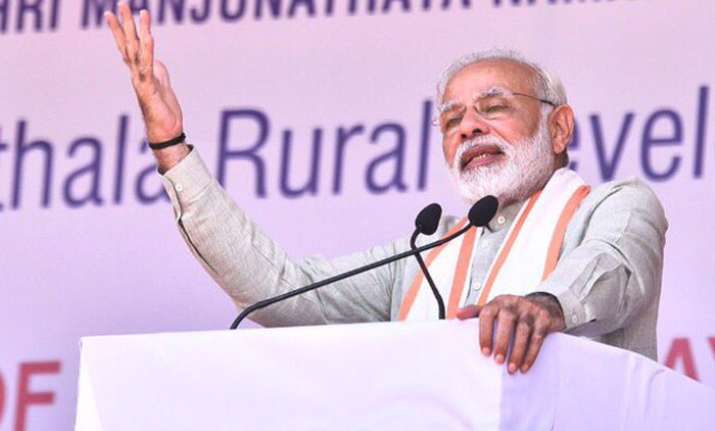 Slamming former Finance Minister leader P Chidambaram's remarks on autonomy for Jammu and Kashmir, Prime Minister Narendra Modi on Sunday launched a scathing attack on the Congress, accusing it of "shamelessly" taking a U-turn on the issue, lending its voice for "Kashmir's azadi" and using a language spoken by Pakistan.
Modi's sharp comments came a day after senior Chidambaram pitched for greater autonomy for Jammu and Kashmir yet again.
Addressing a rally in Bengaluru, PM Modi said those who were in power till yesterday are lending their voice for Kashmir's azadi. 
Modi told BJP workers in Congress-ruled Karnataka that his government would not compromise with the country's unity and integrity.
"All of a sudden, those who were in power till yesterday have taken a U-turn. Shamelessly, they are making a statement and are lending their voice for Kashmir's azadi," Modi said.
Without taking Chidambaram's name, Modi said, "I'm surprised that those who were in power at the Centre, those who were responsible for the country's internal security and national security (are saying this)." 
Modi said the country had no hope or expectations from the Congress.
Noting that Sardar Patel took important decisions for the country's unity, he said thousands of jawans had sacrificed their lives for Kashmir.
"The country's soldiers have sacrificed their lives every moment for the sake of the security of the motherland and innocent citizens of Kashmir.
"I want to ask the people of Bengaluru, can the country benefit from such people who are playing politics on the sacrifice of our soldiers? They don't have any shame in saying this. The Congress party will have to give an answer for this (Chidambaram's) statement...," he said.
Modi said, "Those bravehearts who have sacrificed their lives, mothers who have lost their sons for the country...that mother is asking the question, that sister who has lost her brother is asking the question and the child who has lost his father is asking the question." 
But, he said, the Congress was "shamelessly using such language that is used by the separatists on Kashmir's land. (They are) using the language that is spoken by Pakistan." 
Stressing that this was the land of Sardar Patel, he said, "We will not compromise with the country's unity and integrity and we will not allow it to happen." 
Chidambaram had told reporters in Rajkot in poll-bound Gujarat yesterday, "The demand in the Kashmir Valley is to respect the letter and spirit of Article 370, that means they want greater autonomy. My interactions in J&K led me to the conclusion that when they ask for azadi, mostly, I am not saying all...the overwhelming majority, they want autonomy." 
"Yes, I do," Chidambaram said when he was asked if he still thought that Jammu and Kashmir should be given greater autonomy.
Chidambaram had, in July 2016, advocated greater autonomy for J&K, saying India should restore the "grand bargain" under which Kashmir had acceded by granting a large degree of autonomy to it.
He had warned that otherwise the country would have to pay a "heavy price".
The Congress, however, has sought to distance itself from the remarks of Chidambaram on Kashmir, saying "the opinion of an individual is not necessarily the opinion of the party".
Congress chief spokesperson Randeep Singh Surjewala had said Jammu and Kashmir was an integral part of India and "will always remain so unquestionably".
Reacting to Modi's remarks, Chidambaram said PM was "imagining a ghost and attacking it" and maintained that those criticising him should first read his comments.
"Those who criticise must read the whole answer and tell me which word in the answer was wrong. The PM is imagining a ghost and attacking it," he told PTI here.
At the BJP workers' meet here, Modi also said when India carried out the surgical strikes across the Line of Control (LoC) in September last year, "our soldiers hit back at our enemy. It was a moment of great pride for the whole nation, but the Congress party could not digest that also".
The prime minister said, "Now I can understand after the statement of the Congress leader (Chidambaram), what was their reason for their anger towards the surgical strikes." 
He said, "The heroism of our brave soldiers, India's diplomatic strength, India's courage, its restraint, the whole world saw it at Dokalam (during the standoff with China).
"However strong China may be, in the test of restraint, India has lived up. Today it is India's ability which the world is looking at with respect...The Congress people are every day spreading false information in the name of Dokalam." 
Hitting out at the Congress, he said, "Those who remained in power for so many years, on those people the country had trust in, and (they) have turned out to be such? They are of such thinking." 
Modi said there was a feeling that after electoral defeats, "some sensible people" in the Congress would try to bring the party on the right path. "But one or the other I'm seeing and hearing their statements and actions that are irresponsible...It looks like the Congress has decided not to improve," he said.
"People learn from defeats, they understand, they rectify their mistakes, but their arrogance is on cloud nine...They have lost track of the people's expectations. That is the reason they are using such language." 
Reacting sharply to Chidambaram's remarks, the BJP had yesterday said it was not surprising to see Chidambaram make such comments, given his leader supported those who gave the slogan of "Bharat tere tukde honge", an apparent reference to Rahul Gandhi backing those who protested the arrest of student leader Kanhaiya Kumar during the JNU row.
(With PTI inputs)