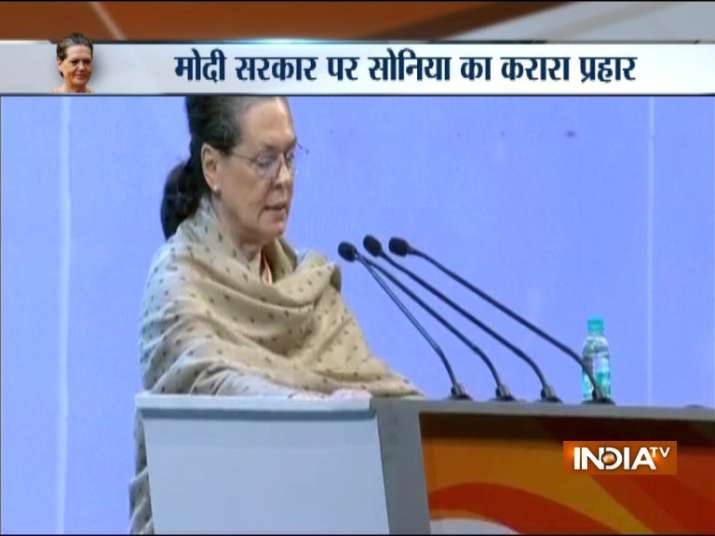 The Congress, during its 84th plenary session in New Delhi, on Saturday will decide the party's strategy for next five years and roll out a road map for reversing its downward electoral journey as well as restoring its past glory ahead of the 2019 Lok Sabha elections.
Congress party's top leaders, including former prime minister Manmohan Singh and UPA chairperson Sonia Gandhi are attending the event. The party is hoping that around 15,000 party members will attend the two-day open session.
AS IT HAPPENED:
3:29 pm: The promises of 'Sabka Saath Sabka Vikas' and 'Na khaaoonga na khaane doona' by the current govt is nothing but 'drama' & their tactic to get votes, says Sonia Gandhi
3:28 pm: 
Delhi: Sonia Gandhi hugs Rahul Gandhi after after completing her speech at #CongressPlenarySession pic.twitter.com/66NhMrsf4e

— ANI (@ANI) March 17, 2018
3:25 pm: It is the beginning of a new chapter, the challenges we are facing are not usual ones. We need to make an India free of corruption and vendetta, under President Rahul Gandhi, let us pledge that we will make all efforts to to do this: Sonia Gandhi
3:24 pm: Wherever there is a non-Congress govt, our friends are taking a stand against anarchy & violence there & continuing with their work, braving all of it. It is Congress Party which takes stand against injustice and raises it voice against it: Sonia Gandhi
3:23 pm: We are exposing fraud & corruption by PM Modi & the people with him, using proof: Sonia Gandhi
3:22 pm: In last 4 years, this arrogant govt has left no stone unturned to destroy Congress. But Congress has never cowered down and it will never cower down: Sonia Gandhi
3:21 pm: Today I am saddened to see that Modi govt is weakening & ignoring the schemes & programs (implemented during UPA):  Sonia Gandhi
3:20 pm: Under Manmohan Singh's governance economic growth was at its highest: Sonia Gandhi 
3:19 pm: You all know how due to circumstances I entered the public sphere but when I realized that the party is weakening, keeping in mind sentiments of Congressmen, I entered the political arena:  Sonia Gandhi
3:18 pm: 40 years back Indira's Ji's stunning victory in Chikmagalur turned around Indian politics, once again our party must give a similar performance, says Sonia Gandhi
3:17 pm: Today only one thing matters, how to strengthen the great party with which we have relations that go back in time, says Sonia Gandhi
3:16 pm: The party's victory will be the nation's victory, it will be the victory for each one of us. Congress is not a political term, it is a movement, says Sonia Gandhi
3:15 pm: First of all, I congratulate Rahul Gandhi, he took up this responsibility (of party president) at a very challenging time, says Sonia Gandhi
WATCH VIDEO:
11:08 am: When youths look at PM Modi, they can't see the way forward. Congress is the only party which will take country forward.
11:01 am: Divide, hatred and anger being spread in country and it is our job to unite and bind India together.
10:55 am: This is the only symbol (Congress party symbol) that can unite the nation and take it forward: Rahul Gandhi at Congress plenary session in Delhi.
10:50 am: They (BJP) use anger we use love but one thing that I want to say is that this country belongs to everyone and whatever Congress will do will be for the benefit for all.
10:45 am: The session began with an inaugural address by Congress president Rahul Gandhi.
Sonia Gandhi, Rahul Gandhi & Manmohan Singh at #Delhi's Indira Gandhi Stadium for Congress' plenary session. pic.twitter.com/0QtEdWENym

— ANI (@ANI) March 17, 2018
10:42 am: Party sources said the party would adopt four resolutions on political situation, economic front, foreign affairs, and agriculture, unemployment and poverty alleviation. The party will highlight its vision on each sphere and compare it with the current situation. 
Visuals from Congress Plenary Session underway at #Delhi's Indira Gandhi Stadium. pic.twitter.com/FjK3u987Y2

— ANI (@ANI) March 17, 2018
10:38 am: At the two-day brainstorming session, two resolutions, including the one on political situation, will be taken up and adopted today, while two others, including the one on jobs, will be taken up on tomorrow. 
10:30 am: The session will end with an address of the Congress president, where he would set the tone for the party's plan forward for the upcoming elections.