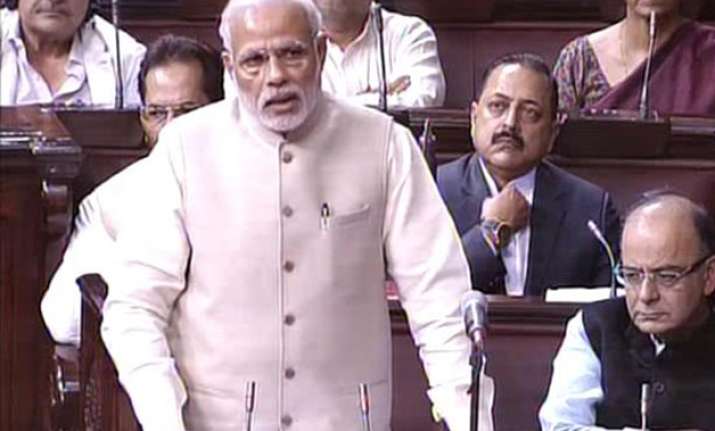 New Delhi: Prime Minister Narendra Modi today likened the Congress party to 'death' saying that the party never gets a bad name. He was referring to the government's criticism of the Congress being reported as its criticism of the opposition as a whole.
"Death has a blessing. It never gets blamed for anything. If somebody dies, the blame goes to reasons like cancer, age. Death itself is never blamed or defamed."
"Sometimes I feel that Congress has this blessing. If we criticise Congress, the media terms it as 'attack on opposition' but not an attack on Congress. However, if we attack (JD-U leader) Sharad ji (Yadav) or BSP, then it said it is an attack on JD-U or BSP," said PM Modi.
"Congress never gets the blame. It needs to be pondered upon as this is in itself a big science," he added.
The Prime Minister was speaking in Rajya Sabha responding to the motion of thanks to the Presidential address of both the Houses of Parliament.
Adopting a conciliatory approach, the Prime Minister referred to the President's address in which the President appealed to the members to ensure smooth functioning of the Parliament and not allow disruption.
"We have been running Parliament this session smoothly for this I would thank the opposition for carrying forward President's message. The impact of the President's message is a matter of pride for us," he said.
The Prime Minister further told the Congress that it was in power for long and that the NDA has got the opportunity now.
"Development in fits and starts is not enough. Such an approach will leave us far behind. We need to move from incremental to quantum jump," he said.
Modi mentioned GST and said there are many bills like this which are pending in the Rajya Sabha.
"The Peoples' Representatives (Lok Sabha) have endorsed (bills) but Representatives of the States (Rajya Sabha) have not," Modi said.
Modi said the opposition was welcome in criticising and finding faults, if any, in the implementation of initiatives taken by his government as he listed a number of programmes, including for farmers, youth and other sections of the society.
At the same time, he targeted Congress for claiming ownership to the schemes of his government by quoting Indira Gandhi as saying "There are two kinds of people in the world -- one who works and another who takes credit for it...You try to belong to the first category because there is little competition in it. This has been said by Indiraji."
The Prime Minister told Congress benches that they had got a chance for long to enjoy power and it was now BJP-led coalition's turn to work for the country.
While noting that all governments have made some contribution, the Prime Minister said, "If we work with the attitude of 'hota hai, chalta hai', it will take a long time for the development of a big country like India. We need to apply full force."
Taking a dig at Azad for referring to alleged fault lines in Jan Dhan Yojana, Modi said that he was trying to find fault with a microscope.
"I thank Ghulam Nabi Azad ji. This is what opposition should do. He got the recording done of what is lacking in Jandhan in Bhopal. Whatever the facts be, I appreciate the effort. It shows the Opposition is vigilant.
"Had you worked so hard while in in government, there would have been no need for Modi to do Jandhan. You went out with a microscope to see where we were lacking. Had you earlier worked with binoculars, this work would not have been left for Modi," he said sarcastically.
Contending that his government's focus is on good governance and transparency, the Prime Minister referred to the scams like 2G and Spectrum during the UPA regime.
"What was the climate before our government came? All round corruption and nepotism had gripped the country. Right or wrong, the trust had gone down. The country's image had taken a beating abroad as well," he said claiming that his government was a policy driven one.
(With PTI inputs)