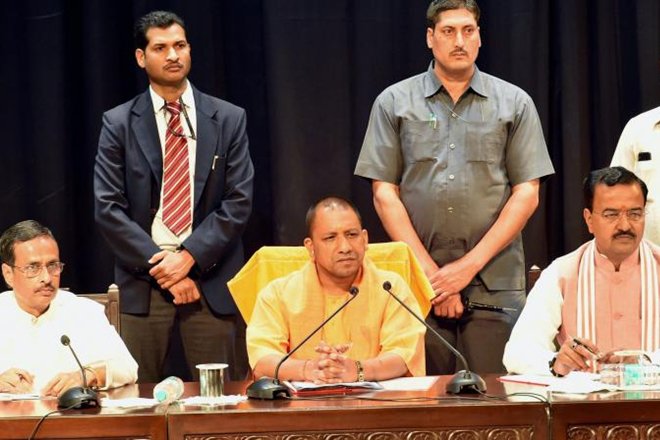 Continuing his style of prompt action and hard-hitting decisions, Uttar Pradesh Chief Minister Yogi Adityanath, during the second Cabinet meet on Tuesday, scrapped the 'Samajwadi Pension Scheme' of the erstwhile SP government and ordered a detailed review of its beneficiaries. 
The decision came while reviewing various schemes being run by the Social Welfare Department of the state. CM Adityanath has asked the officials to stall the pension scheme and review the list of beneficiaries to know whether they fulfilling eligibility criteria or not.
The Chief Minister also directed the officials to consider doubling the pension amount from Rs 500 to Rs 1,000 each in widow, divyang and old age pension schemes and present it before the cabinet.
The Yogi Adityanath-led UP government is also reportedly planning to scrap the cycle tracks made by the erstwhile government in cities like Noida, Agra and Lucknow. 
The matter was discussed with the state's finance department, city development department and PWD minister and officials. However, a final call is yet to be taken.
According to reports, the government is planning breaking of cycle tracks with an aim to broaden the roads.
In the second Cabinet meet, Yogi Adityanath Cabinet gave its approval to the proposal to make entire roads of the state pothole-free by June 15.
The new CM of the state has also said the possibility of organising mass marriages of scheduled castes girls should be considered as it would encourage dowryless marriages.
Besides, he ordered to rename SP government's 'Shaadi Anudan Yojana' as 'Kanyadan Yojana'.
The Yogi Adityanath-led Cabinet, on Monday, also ordered probe into the works by the erstwhile government subject to expenditure over Rs 10 crore in state's development authorities, including Noida, Greater Noida, Lucknow, Kanpur and Ghaziabad.