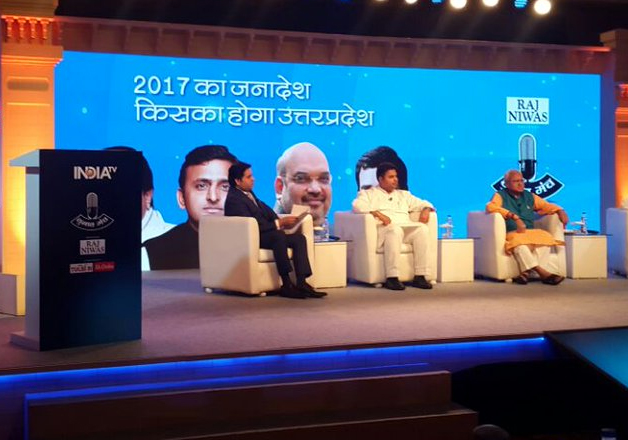 Samajwadi Party leader Abhishek Mishra today said that the law and order situation in Uttar Pradesh under CM Akhilesh Yadav's leadership has improved and number of criminal cases has fallen sharply. 
Speaking at the India TV's conclave 'Chunav Manch', Mishra, a close aide of Akhilesh Yadav said, "Give me one instance where Samajwadi Party has failed to fulfil its duty. Law and order in Uttar Pradesh has improved." 
Countering his claim, Congress leader PL Punia said that Uttar Pradesh witnesses maximum number of rape cases.
To this, Mishra replied, "Cases have began to be registered under the Samajwadi government." 
"We should look at the improvements in Uttar Pradesh when it comes to checking law and order," he added.
He also appealed to the political parties not to politicise Bulandshahar gangrape incident.
BJP leader Laxmikant Bajpai, who was also present on the panel, racked up the issue of Yadav Singh, the former Noida chief engineer who is accused of orchestrating a massive scam in giving out tenders, to target Samajwadi govt.
"Why they have gone against CBI in Yadav Singh case when even court wanted it?" he questioned, accusing Akhilesh Yadav government of harbouring criminals.
He said that the state is facing total failure of law and order.
"Samajwadi Party and crimes are connected to each other," he said. 
Highlighting his government's achievement, Mishra said, "UP CM Akhilesh Yadav has initiated a scheme for farmers and will give them Rs 5 lakh."
On party shortcomings, he said, "We have not been able to communicate our ideals and agenda to people."
When asked about Mathura riots, Mishra said, "Local administration should have investigated Mathura riots."
Attacking Mayawati's BSP, Mishra said, "They (BSP) called our laptop distribution scheme as a 'jhunjhuna'. It was the biggest digital empowerment programme. Mobile penetration has gone up in UP, those not connected on data will be given smartphones when SP returns to power." 
Uttar Pradesh, country's most populous state and politically vital state, will go to polls early next year.