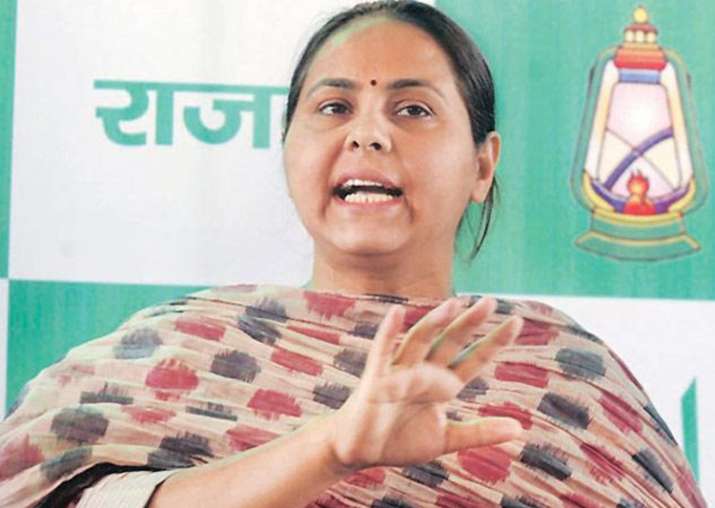 The Enforcement Directorate (ED) has filed a charge sheet in a money laundering case against various accused including a chartered accountant, allegedly linked to RJD chief Lalu Prasad's daughter Misa Bharti. The 2,000-page long final report, filed in the case against accused Rajesh Agarwal, does not make Lalu's daughter an accused. However, the document contains her name. 
The ED had recently raided the farmhouses of Bharti and her husband in Delhi in relation to the case being probed against Agarwal, two Delhi-based businessmen brothers -- Surendra Kumar Jain and Virendra Jain -- and others, who are alleged to have laundered money using over 90 shell companies. Special Judge Naresh Kumar Malhotra will take up the charge sheet for consideration on August 9. 
The probe agency has also told the court that the investigation is still going on and the ED may file a supplementary charge sheet against fresh accused. The court today put up Agarwal's bail plea for argument on July 29. 
In a written submission, the ED had earlier opposed Agarwal's bail plea saying he might tamper with evidence if the relief was granted to him. The Jain brothers were arrested by the Enforcement Directorate earlier under provisions of the Prevention of Money Laundering Act (PMLA). 
Besides Agarwal and Jain brothers, the charge sheet includes the names of around 35 people and the firms as accused. 
According to the ED, Agarwal was associated with some transactions involving a firm allegedly linked to Bharti which is suspected to be involved in tax evasion. 
The case had emerged after the ED had filed a criminal complaint in February this year under the PMLA. 
It was based on a charge sheet filed by the Serious Fraud Investigation Office against certain individuals and firms "for providing accommodation entries by accepting funds from their beneficiaries through mediators and converting the same into share premium transactions in the beneficiary company". 
The ED suspects the entire racket to be worth about Rs 8,000 crore of slush funds.