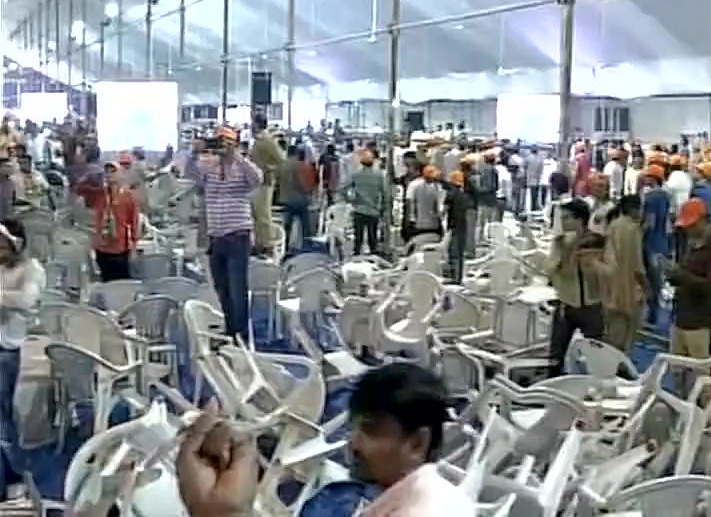 BJP president Amit Shah and Chief Minister Vijay Rupani were today booed off stage by the members of Hardik Patel's Patidar Anamat Andolan Samiti who created ruckus and vanadalised furniture at a programme to felicitate Patel leaders here. 
Hardik Patel's supporters went on a rampage at the venue of Amit Shah's meeting with the leaders of the Patidar community in Surat. 
The crowd started chanting "Hardik, Hardik" as Shah and Union minister Purshottam Rupala was speaking on the stage. 
Chaos prevailed outside the venue as well as in Mota Varraccha area, where Patidar community members from the locality hurled stones at police. 
Surat:Chaos at Amit Shah's Patidar Abhivaadan samaroh as Hardik Patel's supporters vandalize chairs & chant his name pic.twitter.com/6cEaqMwPLW

— ANI (@ANI) September 8, 2016
The function, supposed to be the show of strength of BJP in the Patidar stronghold, wound up hastily within minutes with Patel leaders cutting short their speeches while Shah could speak for hardly four minutes amid sloganeering.
WATCH: Chanting Hardik Patel's name,supporters vandalise chairs & create chaos at Amit Shah's Patidar meet, in Surat pic.twitter.com/2VoCwstx22

— ANI (@ANI) September 8, 2016
The ruckus started even before the commencement of the function with the Patel quota agitators raising slogans like "Jai Sardar, Jai Patidar" and hailing Hardik, even as they damaged furniture at the venue and flung chairs in air. 
The programme was organised by 'Patidar Abhivadan Samiti', an outfit floated by a local businessmen, to felicitate Patidar leaders including the newly-appointed state BJP chief Jitu Vaghani, Deputy Chief Minister Nitin Patel, Union ministers Purshottam Rupala and Manshukh Mandaviya.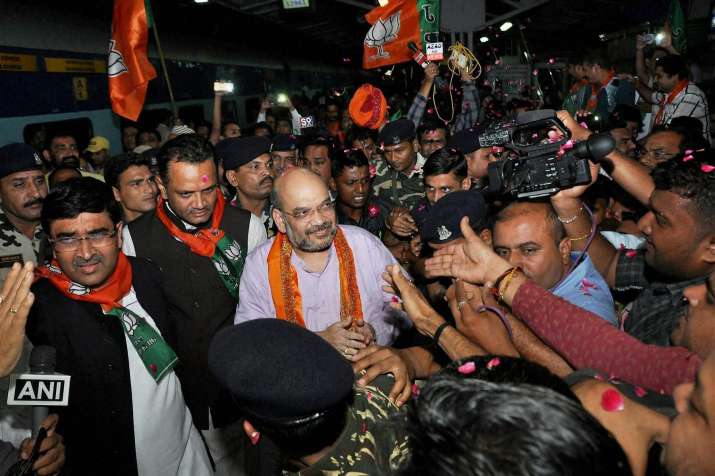 Though police detained several members of Patidar community, the protest continued. The slogan shouting continued even when top BJP leaders like Shah and Rupani started their respective address, forcing them to cut short their speech. 
While Shah wound up within four minutes, Rupani too could not speak for more than three minutes.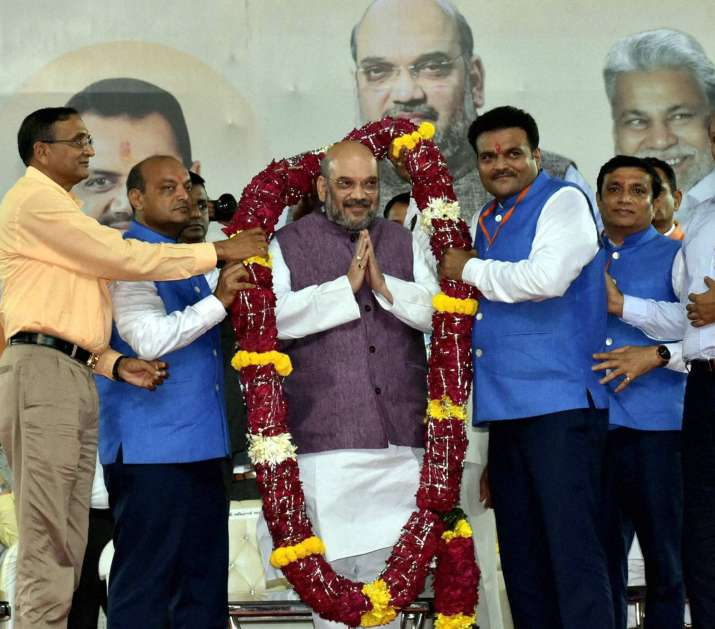 The organisers abruptly declared the programme closed and the leaders were whisked away. 
The showdown was anticipated as the programme, viewed as BJP's outreach to Patels for 2017 Gujarat Assembly elections, was organised in the Patel-dominated Mota Varraccha area. 
Hardik-led PAAS and Sardar Patel Group (SPG) of Lalji Patel, who are spearheading the quota stir, had called upon their supporters yesterday to protest at the venue of today's programme.