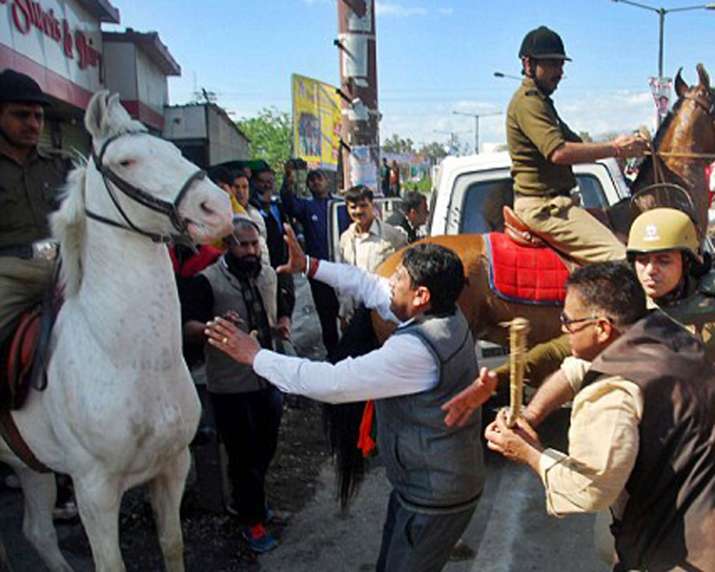 Political cases slapped on Bharatiya Janata Party (BJP) leaders by the former Congress dispensation in Uttarakhand will be withdrawn by the new government, an official said on Saturday.
A decision to this effect was taken by Chief Minister Trivendra Singh Rawat who is leading the Bharatiya Janata Party government in the state, the official said. 
Many of the ruling party leaders are likely to be benefited by this waiver, including Cabinet Minister Arvind Pandey, legislators Pooran Singh Fartyal and Ganesh Joshi among others.
The most prominent of the cases was against Mussoorie legislator Ganesh Joshi who while leading a demonstration in 2016 allegedly injured police horse Shaktimaan, who died later.
The issue had caught the attention of animal rights activists, besides the national and international media.
Joshi then had claimed innocence and had said that he had not hit the horse at all. 
Cabinet Minister and Gadarpur legislator Arvind Pandey also has many cases against him, including one in which he was accused of bashing up a revenue official. He was jailed for many days following this. 
Rudrapur MLA Rajkumar Thukral was booked in 2011 for inciting mob violence. The BJP legislators had created a furore in the state assembly on the matter then.
Lohaghat legislator Pooran Singh Fartyal has various cases against him, including one for vandalising the office of a District Magistrate in 2014 and blocking a national highway. He was also subsequently jailed. 
Two cases against Fartyal was already withdrawn under the Harish Rawat-led Congress government. Now the third one was also likely to go off with the BJP coming to power. 
Senior BJP leaders said there was nothing wrong or new in this decision as in the past too, previous Congress governments have withdrawn cases against its party leaders and workers.
Home Department officials said that while there has been a verbal announcement by the Chief Minister, the procedure of withdrawing such cases needed to go through a formal procedure. This could take three to six months time.
(With IANS inputs)