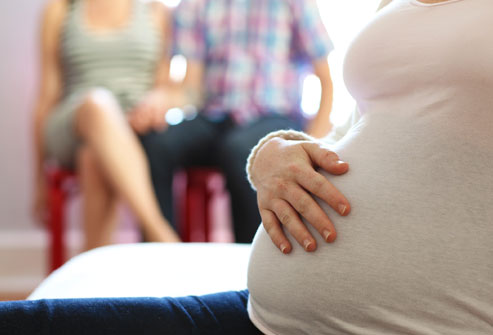 A draft bill which proposes complete ban on commercial surrogacy was today cleared by the Union Cabinet.
The bill, however, allows altruistic surrogacy to Indians. What this effectively means is that the bill puts an end to the practice of "womb on rent". Only close relatives can be surrogates, though the bill does not specifically say what defines close relatives.
According to the Health Ministry proposal, the draft Surrogacy Bill, 2016, aims at regulating commissioning of surrogacy in the country in a proper manner.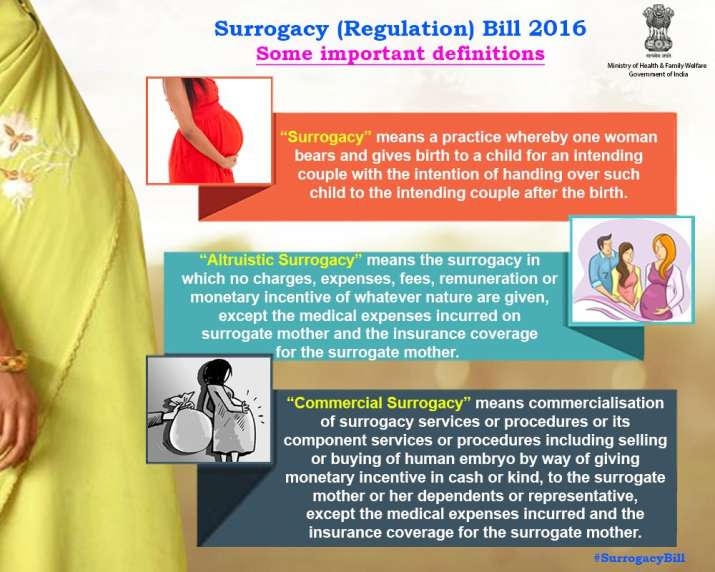 Official sources said the Cabinet gave its green signal to the Bill to be introduced in Parliament.
External Affairs Minister Sushma Swaraj addressed the media on the matter and said that the Bill prohibits commercial surrogacy but allows ethical surrogacy to needy infertile couples.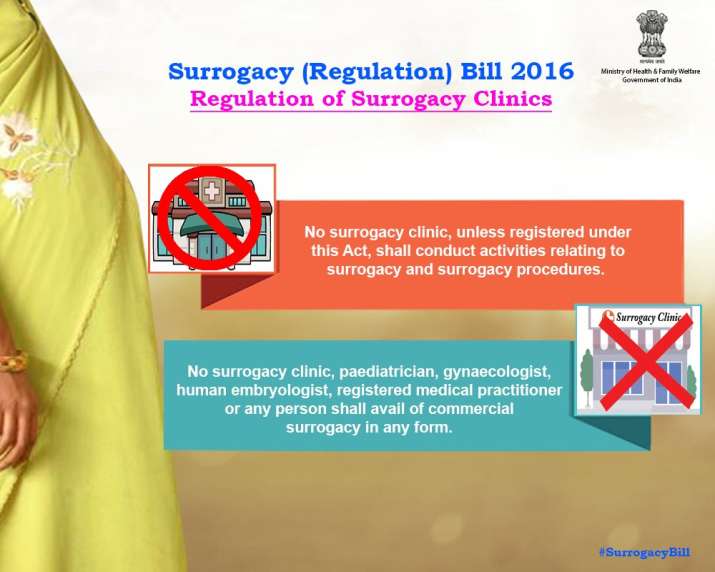 She added that the altruistic surrogacy will only be allowed for Indian citizens living in the country and NRIs or OCI card holders will not be allowed. Couples having a biological child or an adopted child will not be allowed of altruistic surrogacy.
Single parents, homosexual couples or couples in live-in relationships will also be not allowed to avail altruistic surrogacy, Swaraj said.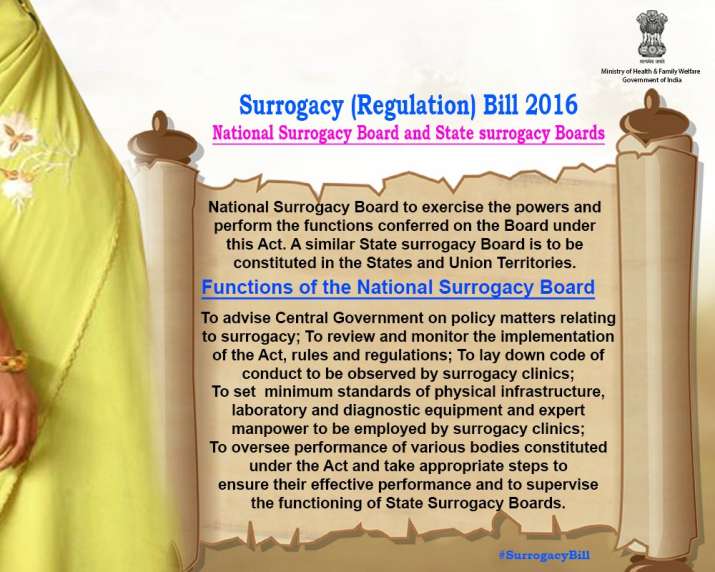 "You can say it (allowing surrogacy for homosexual couples) is looking forward and we can say this doesn't go with our ethos," she said.
"Bill comes as India has emerged as a surrogacy hub for couples and incidents reported on unethical practices," Swaraj said.
"Big celebrities who not only have one but two children, a son and a daughter, even then they went ahead with surrogacy. Something which started as a necessity has become a hobby now," she added.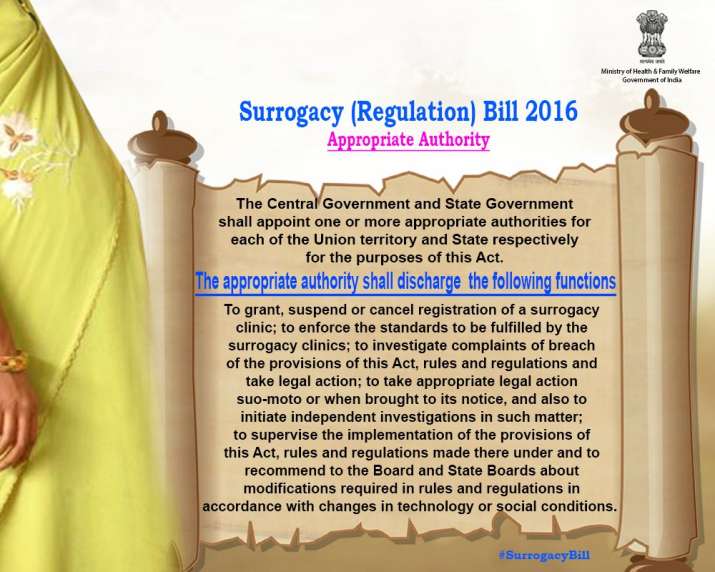 A Group of Ministers (GoM) had recently cleared the bill and had referred it to the Union Cabinet for a final call. The GoM was constituted at the behest of the Prime Minister's Office.
Apart from Health Minister J P Nadda, Commerce Minister Nirmala Sitharaman and Food Processing Industries Minister Harsimrat Kaur Badal were among those part of the GoM.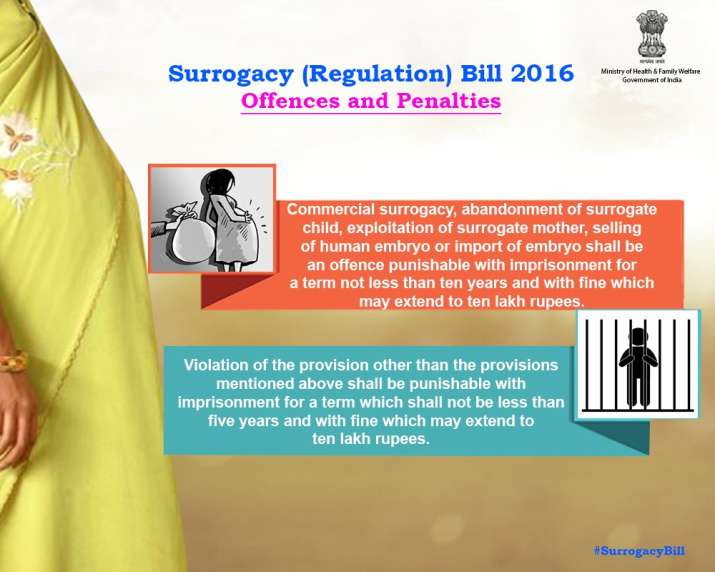 The government had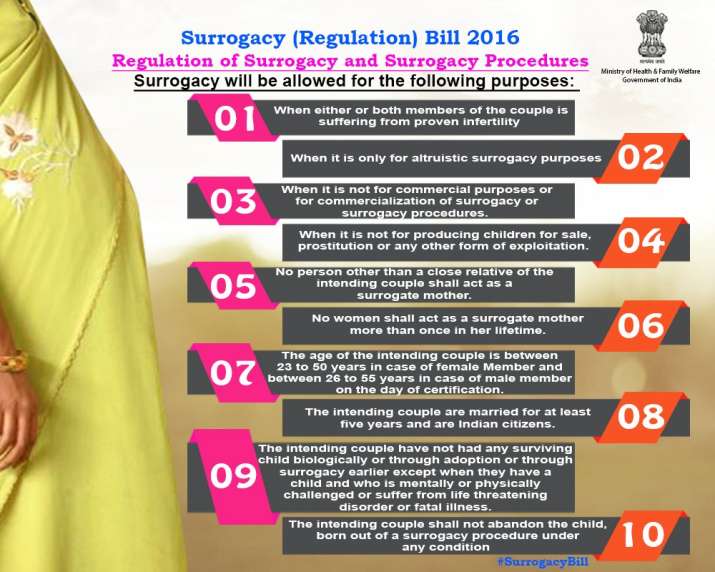 recently admitted that in the absence of a statutory mechanism to control commissioning of surrogacy at present, there have been cases of pregnancies by way of surrogacy, including in rural and tribal areas, leading to possible exploitation of women by unscrupulous elements.
The bill was to be taken up by the Union Cabinet on April 27, but it was dropped from the agenda at the last moment.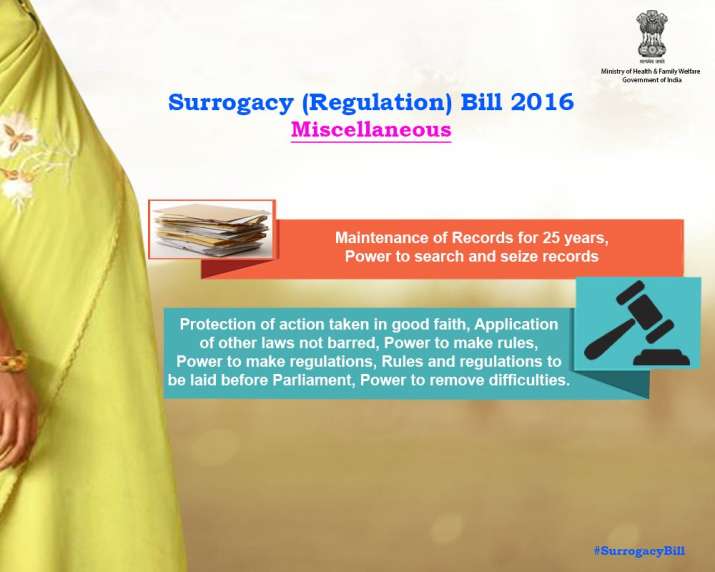 To prevent exploitation of women, especially those in rural and tribal areas, the government has prohibited foreigners from commissioning surrogacy in the country and has drafted this comprehensive legislation, the sources said.
The government had recently said in Parliament that provisions are being made in the draft Bill to make parentage of children born out of surrogacy "legal and transparent".