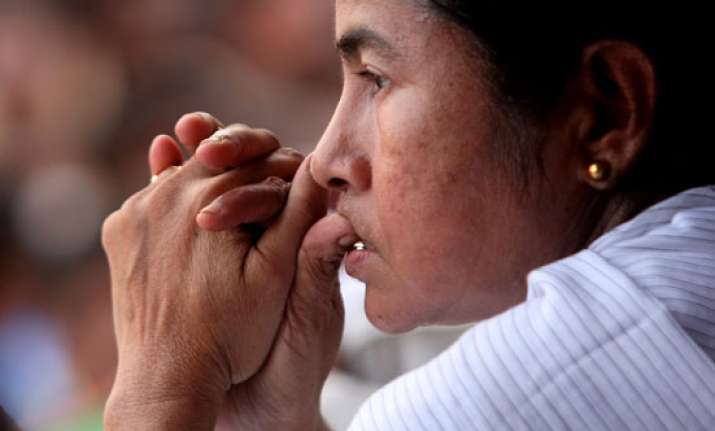 New Delhi: A purported sting operation by a news portal has claimed that ministers and legislators of the Mamata Banerjee-led Trinamool Congress (TMC) accepted bribes in exchange of political favours.
At a press conference in Delhi, 'Narada News', the news portal, released the tape of the sting operation which purportedly shows some Bengal ministers, MPs and MLAs accepting cash in return for favours such as lobbying for a fictitious company 'Impex Consultancy'.
The video allegedly shows the Trinamool leaders accepting around Rs. 5 lakh each in cash in return for favours including lobbying for the non-existent Impex Consultancy. Over Rs 70 lakh were allegedly paid to the politicians, including the Kolkata mayor and one senior police officer, it alleged.
Parliamentarians Mukul Roy, Sultan Ahmed, Saugata Roy, Suvendu Adhikari, Kakoli Ghosh Dastidar, Prasun Banerjee along with legislators Iqbal Ahmed and Sovan Chatterjee, who is also Mayor of Kolkata, are allegedly shown in the sting accepting the cash.
The sting also 'shows' Bengal ministers Farhad Hakim, Subrata Mukherjee and former minister Madan Mitra.
Trinamool called the sting by the portal fake and its footage doctored. On the campaign trail just ahead of the elections, Bengal CM Mamata dared the opposition to "fight her politically instead of resorting to a conspiracy".
Other Trinamool leaders too have jumped to the party's defence. "We are completely transparent. (Chief Minister)  Mamatadi's credentials are impeccable. The people of Bengal know. We are busy with elections now. So whoever has concocted this smear campaign, please go ahead and concoct your smear campaign or your doctored video," said Trinamool spokesperson Derek O'Brien.
Meanwhile, the BJP has demanded Chief Minister Mamata Banerjee's resignation. "We have written to CBI for probe. We are meeting the Election Commission today and we will ask it to investigate the sting and not allow Trinamool leaders allegedly involved in the sting to contest the elections," BJP leader Siddharth Nath Singh said.
The CPM also reacted very sharply to the sting and called for statewide agitation against TMC. "Elections Commission could even consider postponing elections in Bengal and imposing the President's Rule in the truth about the sting comes out," said CPM secretary Surya Kanta Mishra.
(With PTI inputs)