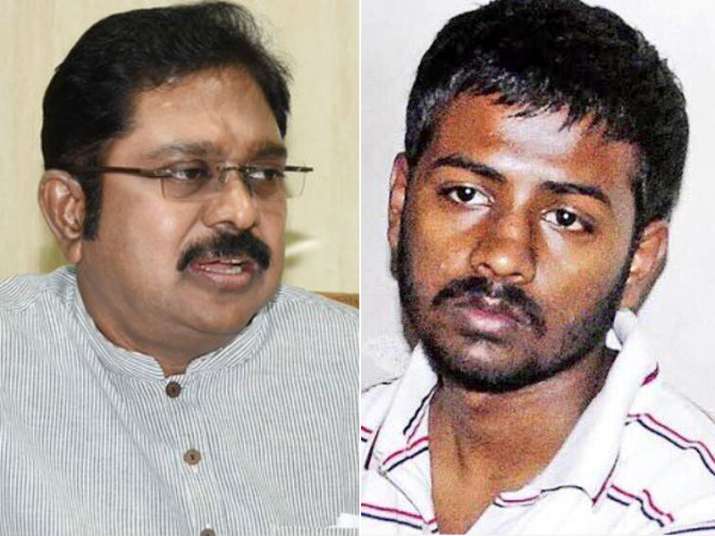 Graft accused TTV Dinakaran, deputy general secretary of Tamil Nadu's ruling party AIADMK, has denied knowing middleman Sukesh Chandrasekar, who allegedly promised him the party's frozen election symbol of 'Two Leaves' by bribing poll body officials. 
"I don't know anybody by this name, Sukesh Chandrasekhar (alleged middleman). I haven't bribed anyone for anything," Dinakaran, who will be meeting jailed party supremo Sasikala later today, told reporters.
The reaction comes soon after the Delhi Police's Crime Branch registered a case against Dinakaran in connection with a case of attempting to bribe the Election Commission of India (EC) for the party's symbol ahead of RK Nagar assembly bypolls.
I don't know anybody by this name, Sukesh Chandrasekhar (alleged middleman). I haven't bribed anyone for anything: TTV Dinakaran pic.twitter.com/xQjEPdPEcm

— ANI (@ANI) April 17, 2017
Dinakaran had allegedly told his faction of the AIADMK that they could use the frozen party symbol of 'two leaves' if they managed to cough up Rs 60 crore. The police action against Dinakaran comes a day after Sukesh, the middleman, was arrested from Hyatt hotel in the national capital.
"It has been learnt that Sukesh had struck a deal for Rs 50 crore for helping the AIADMK faction keep the 'two leaves' symbol. Police have recovered Rs 1.30 crore from Sukesh and two cars -- a BMW and a Mercedes -- have also been seized," said a senior police officer.
Police said that Sukesh is being interrogated on his profile and connection with any EC official.
The Election Commission had frozen AIADMK's 'Two Leaves' symbol after the two factions led by Sasikala and former chief minister O Panneerselvam staked claim to it.
The faction led by its general secretary Sasikala, jailed in a disproportionate assets case, later opted for the 'hat' symbol.
The bypoll to the R K Nagar Assembly constituency in Tamil Nadu was scheduled for April 12, but the Election Commission cancelled it, saying the electoral process had been "seriously vitiated" by parties through use of money power.
Dinakaran was the candidate of the Sasikala faction. The seat fell vacant after the death of the then chief minister J Jayalalithaa on December 5 and the bypoll is being viewed as a battle of prestige for the two warring factions of the AIADMK.