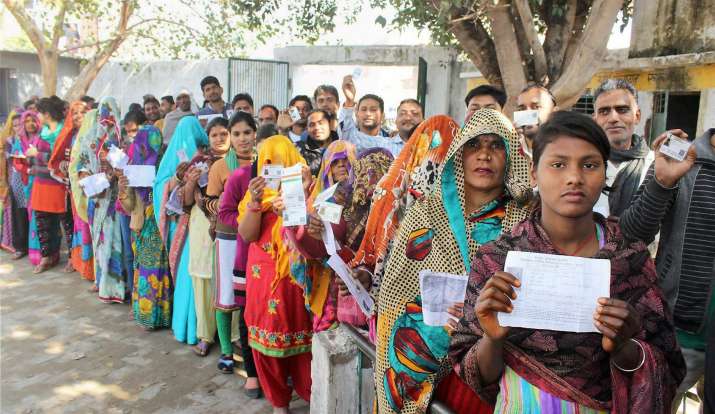 Campaigning drew to a close this evening in 67 constituencies of Uttar Pradesh for the second phase of elections as well as in 69 seats in Uttarakhand for the polls on February 15. 
The high-voltage campaigning saw the top brass of the main parties in fray addressing a slew of rallies, roadshows and public meetings in both the states. 
Uttar Pradesh is witnessing a triangular contest among Samajwadi Party, Congress and BSP while the fight in Uttarakhand is an interesting one as about a dozen rebel candidates in fray as Independents may upset the calculations of Congress and BJP which have been traditionally the two main contenders for power in the state. 
The constituencies in UP that are going to polls are spread across 11 districts -- Saharanpur, Bijnor, Moradabad, Sambhal, Rampur, Bareilly, Amroha, Pilibhit, Kheri, Shahjahanpur and Badaun. 
Of the 67 seats at stake, ruling Samajwadi Party (SP) had won 34 in 2012, followed by BSP 18, BJP 10, Congress 3 and others 2. 
While Prime Minister Narendra Modi and BJP president Amit Shah championed the cause of the saffron party during the campaigning, the SP-Congress alliance's charge was spearheaded by Chief Minister Akhilesh Yadav and Congress vice-president Rahul Gandhi, besides other leaders of the respective parties. 
BSP supremo Mayawati wooed the voters addressing one rally after another all by herself, with senior party leader SC Misra chipping in at certain places. 
Both Modi and Shah slammed the Congress and SP, saying Rahul ran a campaign against the SP government and wondered what change of heart made them embrace each other now. 
Akhilesh and Rahul harped on demonetisation, alleging that Modi's note ban decision had caused immense hardship to those living in the rural areas. 
Keeping in mind that western Uttar Pradesh had vast tracts of agricultural land, Modi played the pro-poor and pro-farmers card and reiterated BJP's promise of waiving loans of small and marginal farmers and paying the dues of sugarcane growers within 14 days of coming to power. 
Interestingly, political bigwigs, including SP patron Mulayam Singh Yadav and Congress president Sonia Gandhi were conspicuous by their absence from the campaign trail in the first two phases of polling. 
At her rallies, Mayawati went all out against the SP, alleging that the Akhilesh government had let loose a "reign of terror" in Uttar Pradesh with hooligans committing "utmost atrocities" against women. 
The BSP supremo also accused the Modi government of "interfering" with the personal law of Muslims and ending reservations for backward communities in jobs and promised to extend quota benefits to the poor among the upper castes. 
Her refrain was that if Muslims wanted to defeat the BJP, they should not waste their votes by backing the SP-Congress alliance. 
Development, clearance of cane dues and law-and-order were among the key issues raised by various leaders in the 67 constituencies, with every political party promising to address them if voted to power. 
In the second phase, 795 candidates are in the fray with a maximum of 22 from Barhapur (Bijnor) and a minimum of five nominees from Dhanaura (Amroha). 
Prominent contestants include controversial SP minister Azam Khan and his son Abdullah Azam, who are contesting from Rampur and Swar seats respectively, Saif Ali Naqvi, son of former Congress MP Zafar Ali Naqvi, former central minister Jitin Prasada from Tilhar (Shahjahanpur), BJP Legislature Party leader Suresh Kumar Khanna from Shahjahanpur city and state minister Mehboob Ali from Amroha. 
The fate of these candidates will be decided by 2.28 crore voters, including over 1.04 crore women. 
There will be 14,771 polling centres and 23,693 polling stations in the second phase. 
The next five phases of polling will be held on February 19, 23, 27 and on March 4 and 8. Counting of votes will be taken up on March 11. 
Campaigning for Uttarakhand polls ends 
The intense campaigning for the February 15 elections in 69 of the 70 Assembly seats in Uttarakhand drew to a close this evening. 
With the death of Kuldip Kanwasi, a BSP candidate from Karnaprayag in a road accident yesterday, polling to the seat has been postponed. 
With the end of campaigning at 5 PM, political parties cannot hold any public meetings and rallies to garner support for themselves. The only way they can mobilise support is through direct public contact, the state election office said here. 
As many as 75,12,559 voters will decide the fate of 628 candidates in 69 Assembly seats. 
Poll notification was issued on January 20 and top leaders and star campaigners of both Congress and BJP, the two main parties in the fray, addressed a string of rallies, public meetings and roadshows to woo the electorate. 
Prime Minister Narendra Modi and BJP chief Amit Shah held about half a dozen rallies, Union Ministers Rajnath Singh, Nitin Gadkari and Arun Jaitley also addressed public meetings. 
Congress vice president Rahul Gandhi held two public meetings in Rishikesh and Someshwar and a 75-km roadshow in Haridwar district which has the maximum 11 Assembly seats. 
Chief Minister Harish Rawat too held several public meetings and roadshows on a daily basis to drum up support. 
However, party president Sonia Gandhi kept away from campaigning this time. 
Congress and BJP, which have been traditionally the main contenders, are locked in a straight contests in most of the seats but presence of about a dozen rebel candidates in the fray as independents may upset the calculations of the official nominees of their respective parties. 
12 former Congress MLAs, who are contesting this time as BJP candidates, have made these elections interesting. 
Also, this time, Chief Minister Harish Rawat himself who despite being an MLA from Dharchula in the hills is contesting from two seats including Haridwar (rural) and Kichcha in the plains. 
State election office here said all preparations have been made for the February 15 elections with nearly 20,000 security personnel deployed to ensure peaceful polling on the day which has been declared a public holiday. 
Nepal-India border sealed for 72 hours
The Nepal-India border points in Kanchanpur district were sealed for 72 hours since Sunday evening in view of the state assembly elections in India.
The western points Gaddachauki and Brahmadev were closed since Sunday evening and the Dodhara Chandani and Belauri points will be sealed from Monday evening, the Himalayan Times reported.
The elections to the legislative assemblies of Uttarakhand and Uttar Pradesh have been scheduled for Wednesday. 
Uttar Pradesh, which shares a border with Nepal, will go for its second phase of polling on February 11 after the first phase took place on February 4.
The Nepal-India checkpoints in Beldandi and Tribhuvan Basti will remain closed from Tuesday evening and they will reopen after 5 p.m. on Wednesday, Kanchanpur's Deputy Superintendent of Police Nainsingh Karki said. The decision to seal the border points was taken with a view to avert any untoward incident during the election period, he said. 
The Indian police also tightened security in border areas with Nepal and intensified security checks.
(With agencies)