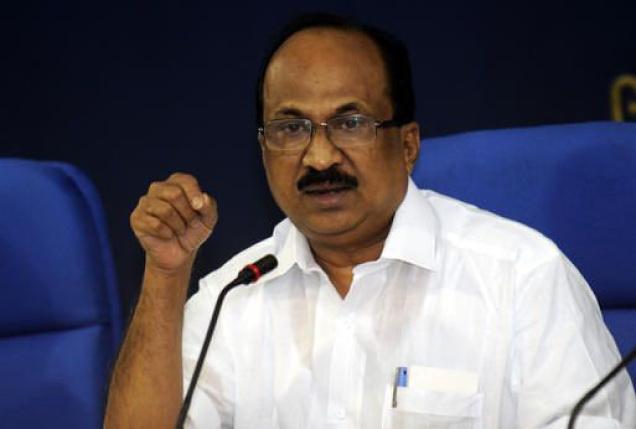 In a first, a member of the Public Accounts Committee (PAC) of Parliament  has demanded privilege motion against panel's Chairman K V Thomas, alleging that he used the committee to "lower the dignity" of the Prime Minister. 
Thomas had on January 9 at a press conference in Kochi said the PAC, which is examining the NDA government's decision to demonetise high-value currency notes, has the power to call even the Prime Minister on the issue.
The Congress leader had said that the committee could call the PM if it is not satisfied with the answers given by top finance ministry officials and the RBI Governor Urjit Patel.
The former Union Minister had reiterated his remark even as the PAC had in a statement said the Prime Minister will not be called. 
PAC member and BJP MP Nishikant Dubey, in a letter to Lok Sabha Speaker Sumitra Mahajan, said: "K V Thomas became restive and was searching for options to politicise this revolutionary step (demonetisation)... he started using this platform of PAC to meet his political objectives of lowering the dignity of the Prime Minister." 
"I, therefore, request your goodself to allow me to raise the question of privilege in Lok Sabha and accordingly consider my instant communication as a notice under Rule 223 of the Rules of Procedures and Conduct of Business in Lok Sabha," he said. 
Dubey said the matter can also be referred to the Committee of Privileges for examination, investigation and report under Rules of Procedure and Conduct of Business in Lok Sabha. 
Referring to a media report, he also accused Thomas of quoting references of PAC meeting held on January 20 and said this is a "breach of privilege of the committee". 
Reiterating his comment, Thomas had asserted that he was being factually correct on the powers of the PAC members and cited "precedents" of the committee summoning Union ministers twice in the past. He said that former chairman Murli Manohar Joshi wanted the then PM Manmohan Singh to appear before the panel to discuss the 2G issue.
The then BJP members had supported Joshi's call and Singh had given in writing his readiness to appear before the panel, however it did not materialise and Manmohan did not appear before it. 
The PAC, which scrutinises the reports of the Comptroller and Auditor General (CAG), takes suo motu note of the important matters.