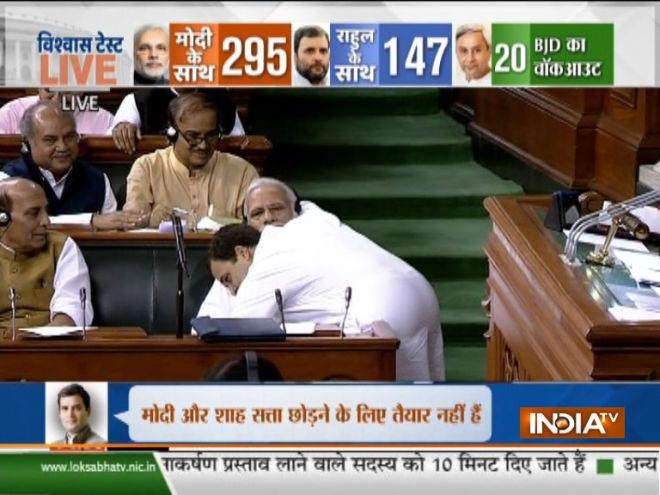 A minister in the BJP government in Madhya Pradesh has slammed Congress president Rahul Gandhi for "forcibly" hugging Prime Minister Narendra Modi in the Parliament last week, saying it was a "shameful" act for the country. 
The minister Vijay Shah, who holds Education portfolio, stated this while addressing a function in Khandwa on Monday. Shah referred to Gandhi's act of embracing the prime minister during a debate on the no-confidence motion in the Lok Sabha. 
"When the prime minister did not stand up, Rahul bhaiyya..the 'Pappu' forcibly hugged him. Tell me, did he not hug PM forcibly?" Shah said and added, "After forcibly hugging the PM, he (Gandhi) winked. Some actress had done the same in the past and the video of the same had gone viral". 
"The Congress may not but we are ashamed by the speech and behaviour of a leader (Gandhi) who dreams to become prime minister of the country. We are ashamed that he is a person of this country," the minister said. 
ALSO READ: This BJP leader calls Rahul Gandhi 'loafer': Here's why
Catch all the latest news about Lok Sabha elections 2019 HERE
Gandhi had gone to the PM's seat after his speech on the motion and hugged him saying he had no ill will against him. 
The PM, who was taken aback by the gesture, had called Gandhi back to shake hands with him. Immediately after the embrace, Gandhi was caught on
camera winking. ​