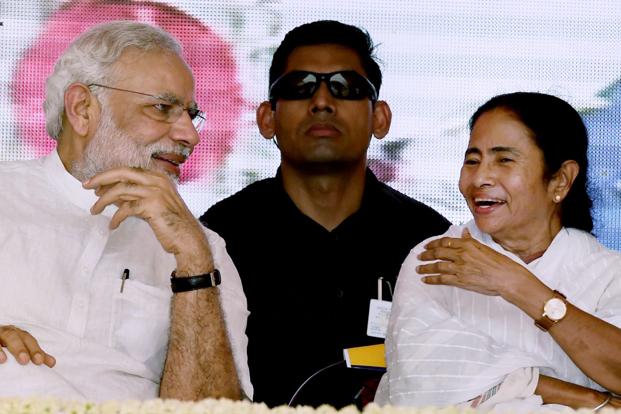 The political fallout of Prime Minister Narendra Modi's decision to demonetise high-denomination currency is yet to become visible at the national level but as far as West Bengal is concerned,  the decision seems to have initiated a paradigm shift in state's politics with the BJP making considerable gains and fast emerging as the main challenger to the ruling Trinamool Congress.
And the indication became evident from the results of the bypolls that were held under the shadow of demonetisation.
The considerable increase in BJP's vote share didn't go unnoticed by the party's central leadership and was appreciated by Prime Minister Narendra Modi, who patted the Bengal BJP unit for their "spirited performance".
"I appreciate @BJP4Bengal for the spirited performance. BJP is fully committed to diligently serving the wonderful people of West Bengal," Modi had tweeted after the bypoll results.
TMC won the Coochbehar Lok Sabha and Tamluk Lok Sabha seats by a brute margin of nearly five lakh votes and the Monteswar Assembly seat by a whopping 1.27 lakh votes, and had termed the victory as "people's revolt" against demonetisation.
The Congress and the CPI(M)-led Left Front, which decided to break their six month-old alliance, was the biggest political casualty in the bypolls, with BJP making substantial gains and emerging as the main opposition to TMC in Bengal.
Though BJP lost its deposit in the Monteswar Assembly seat, its increase in vote share in Coochbehar LS seat from 16.4 to 28.5 per cent and in Tamluk LS seat from 6.4 to 15.25 per cent, shows how the Saffron party is fast increasing its vote share in Bengal.
The Congress lost its deposit in all the three seats, whereas CPI(M) lost in two.
The results have come as a pleasant surprise for a large section of the state BJP leadership, which has been plagued by infighting, lack of organisation and proper leadership, and its failure in capitalising on the Narendra Modi-wave after the 2014 Lok Sabha polls.
Riding the Modi-wave, the Bengal BJP had made substantial gains in 2014 when it secured 17 per cent votes, but lost the momentum to infighting and lack of leadership.
"We didn't expect this result. It seems a large section of the people supported the decision of demonetisation and want us to take up the Opposition space in Bengal," a senior BJP leader said.
(With PTI inputs)