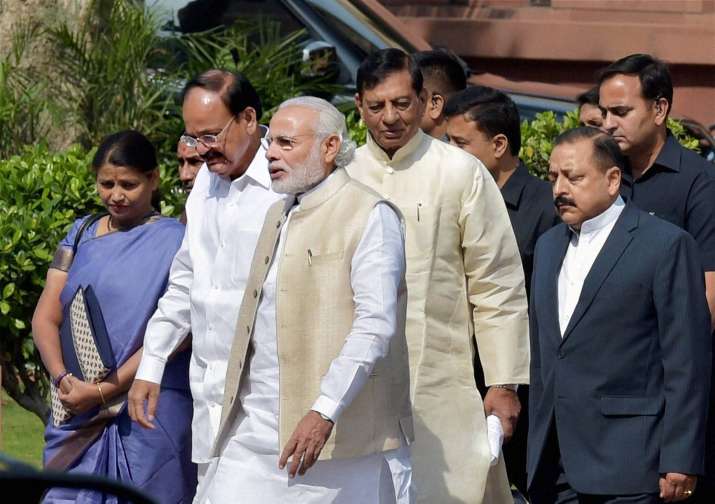 New Delhi: The ruling Bharatiya Janata Party (BJP) has dropped nearly 12 of its MPs from parliamentary panels for repeatedly missing meetings of parliamentary committees.
The party replaced Khanna, Kirti Azad and four others from the Estimates Committee, SS Ahluwalia, Dushyant Singh and Ramesh Pokhriyal Nishank from the Public Accounts Committee and Varun Gandhi, apart from two others, from the Committee on Public Undertakings.
Other MPs who have been replaced for low attendance are Darshana Jadosh, Sanjay Jaiswal, Om Birla, Nand Kumar Chauhan, Pankaj Chaudhary and Vinod Khanna.
They had all allegedly been warned repeatedly by Parliamentary Affairs Minister Venkaiah Naidu to ensure they did not skip the sessions of the committees to which they had been nominated.
BJP has also cautioned MPs that if they fail to attend at least 50 per cent of the meetings of committees and other parliamentary panels, they would be shifted out and replaced by others.
Dismissing the media reports that dropping of some MPs from parliamentary panels was a punishment, Naidu said that the 'the internal system of BJP and the decision was taken as some of members had real reasons and they were busy'.
"We have decided to give new members to the committee since some members did not have the time, and the party needed to be represented properly in these committees," Naidu said.
"There is no internal politics in it," Naidu added.
On the other hand, the opposition Congress claimed that MPs were dropped following the dissent in the party.
Prime Minister Narendra Modi had time and again urged party MPs to attend the Parliament regularly, participating in debates and delivering on other responsibilities.
With the tenure of three of the committees, whose members are usually formed through an election, ending on April 30, BJP has already dropped quite a few of its members from them.
Meanwhile, the first part of Budget Session will end today and the second part will be convened from April 25 to May 13. The party has asked MPs to publicise the Budget's pro-poor and pro-farmer during this one month.