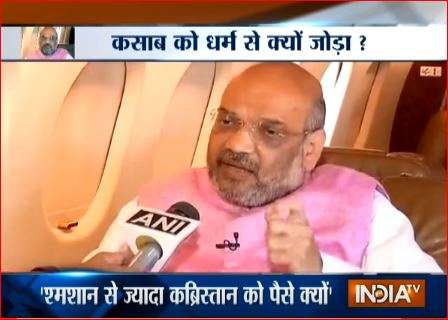 Bharatiya Janata Party chief Amit Shah today said that the party's decision not to project any chief ministerial face for the UP Assembly elections was deliberate.
"The decision was taken after due deliberation. And after the completion of seven phases of polling, I can say that it was a correct decision." Amit Shah said.
He added that PM Modi is the tallest leader of the BJP and has led the election campaign of the party in many elections including those in Maharashtra, Haryana, Jharkhand and Bihar.
The BJP President claimed that his party will form next government in Uttar Pradesh with two-thirds majority.
"We have performed well in every part of the state including Awadh, Bundelkhand, Rohilkhand, Kashi, Gorakhpur and even Western UP," Shah said.
Denying reports of BJP not performing well in the first two phases, Amit Shah said that the party will win at least 90 seats that went to polls in these two phases.
Shah further said that the ruling Samajwadi Party (SP) accepted defeat the day it entered into an electoral alliance with Congress, a party with which it always had ideological differences.
"It clearly meant that the SP lacked the confidence to win elections on its own," Shah said.
Amit Shah refuted allegations that Prime Minister Narendra Modi's vigorous campaign in Varanasi was desperation on part of the BJP.
"When an MP campaigns in his constituency, you can't call it desperation because it's his duty. And Kashi is the centre of 40 Assembly constituencies. Therefore, there is nothing wrong in PM Modi campaigning in Kashi," Shah said.
The BJP chief further pointed out that after 10 years of Manmohan Singh's regime, people have gotten used to a PM whose rallies nobody wanted to attend. 
 
"Our PM is popular and people want to listen to him. That's why he is leading the party and there is nothing wrong in that," Shah added.
On demonetisation, Amit Shah said that BJP's victories in civic polls and bypolls in Maharashtra, Gujarat and Odisha during and after 'demonetisation' proved that the people were with the government on this issue.
He also pointed out that BJP emerged victorious in many parliamentary as well as Assembly bypolls post demonetisation.
"BJP's victories clearly indicate that people are with demonetisation," he said.
Shah also asserted that the 2017 polls will sound a death knell for family-oriented politics as well as the politics of casteism.
"Now there will be a beginning of politics of performance," Shah asserted.
Defending his 'KASAB' statement, the BJP chief wondered why the remark was being termed as non-secular.
"What was non-secular in my statement? He was a terrorist. Why should he be linked to any religion," Shah asked.
He also defended the Prime Minister's 'graveyard-cremation ground' statement, saying that what PM Modi stated was a fact and that the UP government has discriminated while releasing funds for cremation grounds and graveyards.
"The population-ratio is 80:20 in favour of Hindus in the state. However, only Rs 600 crore were given for cremation grounds while graveyards were allotted Rs 1200 crore. Why should anyone object when this reality is raised?" Shah asked.
The BJP chief also claimed that his party will form governments in four states that went to polls, namely UP, Uttarakhand, Goa and Manipur.
When asked about Punjab, Amit Shah conceded that it was a neck-to-neck triangular contest in the state.