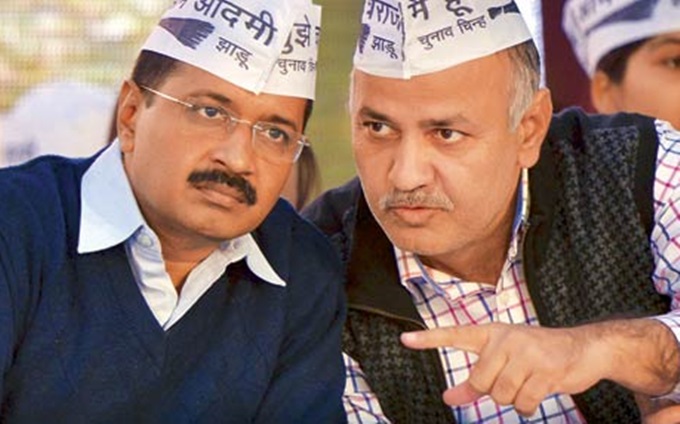 The top two functionaries of the Aam Aadmi Party government in Delhi do not appear to be speaking in tandem on the protests witnessed yesterday at a meeting of guest teachers held in the capital yesterday. 
On December 21, hundreds of guest teachers staged a protest against Delhi CM Kejriwal outside Chhatrasal stadium blocking the Ring Road which led to huge traffic jam, accusing the AAP govt for allegedly making "false promises" related to pay hike.
Addressing the media after the meeting last evening, Kejriwal had claimed that those protesting were not guest teachers but goons of the Congress and Bharatiya Janata Party. 
"Agitators were 'not teachers at all'. When I was going out I saw people standing with sticks. They were not teachers at all," Kejriwal said yesterday.
Today, Deputy Chief Minister and Kejriwal's most trusted lieutenant, appeared to contradict the assertion of the AAP supremo. 
Manish Sisodia, who also holds Education portfolio in the cabinet, today broke down at an event in West Vinod Nagar area and said he was hurt by guest teachers's protest yesterday.
"Hurt by guest teachers' protest yesterday," Sisodia said.
"We made them (guest teachers) permanent and we are the ones who provided equal pay for equal work," Sisodia added.
"For them we were fighting with the system, and they said us thieves," said an emotional Sisodia.
Sisodia's remarks came in stark contrast to the narrative presented by the Chief Minister. The Education minister's assertion that he was perturbed by the behaviour of the guest teachers contradicts Kejriwal's claims that the protesters were not "teachers at all". 
Arvind Kejriwal on Wednesday announced a substantial hike in the salaries of guest teachers in government schools. Kejriwal made the announcement at Chhatrasal stadium at Model Town in Delhi where he was addressing the heads as well as the guest teachers of government schools.
Addressing the gathering, Kejriwal said the final approval pertaining to the hike was pending with Lt Governor Najeeb Jung and he is ready to "snatch it" from him.
Following Kejriwal's statement, guest teachers – both male and female – started to raise slogans against the CM and said they were disappointed with the government.
"We came here with hopes that the government will make some announcement about implementation of the order regarding our salary hike but they made us wait for several hours just to tell the same thing which we have been hearing for last two years," Ramveer Singh, a guest teacher at a government school in Najafgarh told IANS.
Another protesting guest teacher S.K. Singh told IANS that the government does not need Lt Governor's approval for so many other things but when it comes to teachers' rights they make an excuse out of it.
Delhi CM Kejriwal later told reporters that it was not the guest teachers who staged the protest but the "BJP & Congress goons".