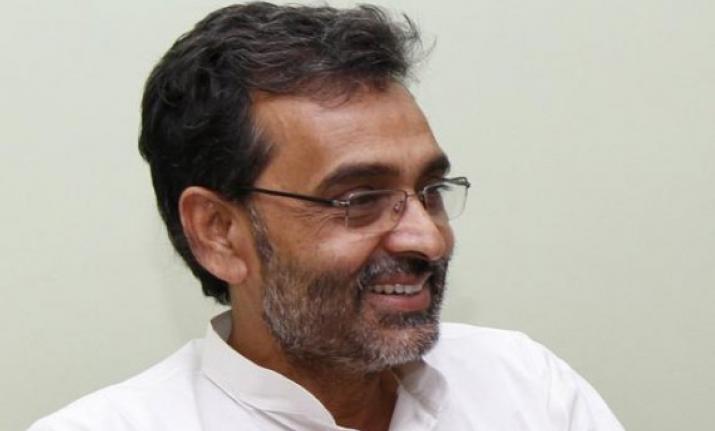 Union minister and Rashtriya Lok Samta Party (RLSP) leader Upendra Kushwaha has hinted his likeliness of abandoning the ruling-NDA for Mahagathbandhan in Bihar before the 2019 Lok Sabha elections saying a good 'kheer' can be made from the milk from Yadavs and rice from Kuhwahas. 
While Yadavs who are traditionally known as cattle-rearers are the key vote bank of Rashtriya Janata Dal, the agriculturist community of Kushwahas, which also falls in the OBC category, are the mainstay of RLSP. The Union minister is reportedly unhappy in the NDA for quite some time. 
Speaking at the party event to celebrate the birth cetenary of BP Mandal, who had headed the Mandal Commission that recommended 27 per cent quota in jobs for Backward Classes, in Patna, Kushwaha advocated a rainbow coalition of OBCs, MBCs and Dalits. 
"Yaduvanshi(Yadavs) ka doodh aur Kushvanshi(Koeri community) ka chawal mil jaye to kheer badhiya hogi. Aur us swadisht vyanjan ko ban ne se koi rok nahi sakta hai (Yadavs' milk and Kushwaha's rice will make a great kheer. And nobody can stop this tasty cuisine from being prepped)," Kushwaha said.
Kushwaha's direct hint was welcomed by Tejashwi Yadav, who is at the helm of RJD while Lalu Prasad Yadav is incarnerated for Fodder scam. 
"No doubt Upendra Ji, tasty and nutritious kheer is a necessity for hardworking people. Panchmeva's healthy qualities not only help the body but also give energy to create an equal society. Kheer made with love is nutritious, tasty and a good source of energy. It is a good cuisine," the Yadav scion tweeted.
Watch video: