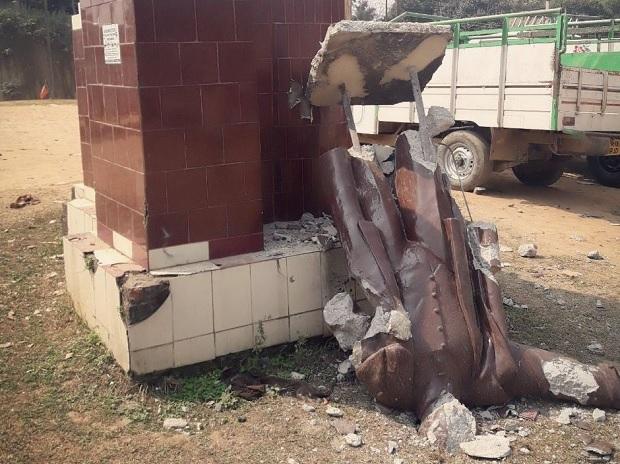 The attacks on statues snowballed into a major political storm on Wednesday when busts of Dalit icon B.R. Ambedkar in Meerut and Jana Sangh founder Syama Prasad Mookerjee in Kolkata were damaged, forcing Prime Minister Narendra Modi and BJP President Amit Shah to speak tough against vandalism and warning the guilty of stern action.
Following the strong condemnation by BJP bigwigs and a massive political backlash in Tamil Nadu, state party leader H. Raja expressed regrets over his Facebook post suggesting removal of the statue of Dravidian icon Periyar E.V. Ramasamy.
The BJP expelled a local functionary in Vellore district for damaging Periyar's statue in Tiruppattur on Tuesday night.
Amid fears of flare-up in political violence, the Home Ministry asked states to take strong action against those indulging in vandalism and making it clear that district magistrates and superintendents of police would be responsible in case of any law and order disturbance.
The fresh incidents of vandalism followed bulldozing of Communist hero Lenin's statue in Tripura on Monday, an act condoned by some BJP leaders. Lenin's figure was brought down after the BJP swept the elections, ending 25 years of Marxist rule in the northeast state.
The situation in parts of Tamil Nadu was tense a day after the statue of Periyar, considered the father figure of the rationalist movement in Tamil Nadu, was vandalized. 
The incident was provoked by BJP leader Raja's Facebook post on Tuesday in which he said: "Lenin's statue was broken down in Tripura. Today it is Lenin's statue in Tripura, tomorrow it will be the statue of caste fanatic E.V. Ramasamy."
Raja on Wednesday expressed regret for the post, claiming the message was posted by his social media administrator without his permission and that he had removed it. Street protests broke out across Tamil Nadu, including in capital Chennai, with workers of the DMK and Periyarist groups burning effigies of Raja.
Two petrol bombs were hurled outside the BJP office in Coimbatore on Wednesday morning. Two activists of Periyar organisation were arrested.
In Kolkata, members of ultra-Left student outfit "Radical" vandalised and defaced a statue of Jana Sangh founder and ideologue Syama Prasad Mookerjee at the Keoratola crematorium, police said.
The bust was defaced with black ink and deshaped with a hammer and the right side of the face damaged. Six members of the group were arrested amid condemnation from the state government.
A statue of Dalit icon Ambedkar was vandalized in Meerut district in Uttar Pradesh. Senior district officials rushed to the spot and security forces were deployed in large numbers.
Prime Minister Modi strongly condemned the incidents and warned of stern action against those found guilty. He spoke to Home Minister Rajnath Singh, expressing his strong disapproval.
"Persons indulging in such acts must be sternly dealt with and booked under relevant provisions of law," the Home Ministry said. 
The Centre also told state governments to make district magistrates and police chiefs "personally" responsible for the law and order situation, investigate incidents of destruction of busts and act tough against the culprits.
Vice President M. Venkaiah Naidu described as "shameful" and "mad" the acts of vandalism.
BJP President Amit Shah called the incidents "unfortunate" and warned of severe action against guilty party members.
"Any person associated with the BJP found to be involved with destroying any statue will face severe action from the party. We as a party do not support bringing down anybody's statue," he said.
Meanwhile, political leaders slugged it out in their 'tit for tat' moment with parties blaming one another for the continued violence. 
Here is a look at the political storm that followed the controversy:
# Mayawati, BSP supremo
The spate of political violence and hatred started after the installation of new governments in the north-eastern states needs to be condemned... It is because of this kind of politics that there is tension and insecurity all around. These incidents only prove how the politics of hatred and violence is prevalent all over, because people with criminal mentality have no fear of law. Elsewhere the BJP leaders, like always, are merely enacting the drama of issuing statements." 
The BJP and RSS should desist from using political violence as their tools, else they could also face its consequences in future.
# Jyotiraditya Scindia, Congress
"It can be anybody's statue, but if you are demolishing statues, then you are desecrating the country's culture and civilisation. An atmosphere of intolerance is prevailing in the country after the BJP came to power," he said. 
# Mallikarjun Kharge, Congress
In Tamil Nadu, the statue of Periyar was removed and damaged. It is a very big insult of not only people of Tamil Nadu, but also people of the country who believe in his ideology. In a democracy, there are people who believe in all kinds of ideologies. There is no tolerance in the BJP people and they are turning intolerant. I and my party condemn the incident of causing damage to his statue. These are people with vested interest who are insulting leaders of rationalist movement in the name of religion. It is not right. People will not tolerate it.
# Anna Hazare, Social Activist
Hazare expressed displeasure over damage to the statues across the country and said "nobody has the right to do such things". It is not good what is happening in the country. These statues have been built in recognition of their work.
WATCH VIDEO: