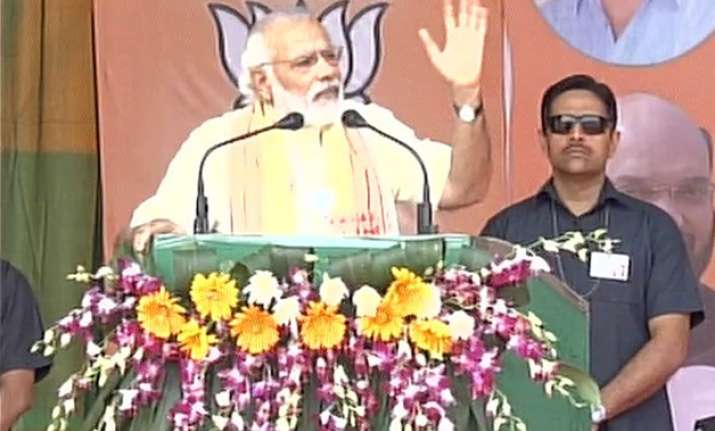 Guwahati: Prime Minister Narender Modi today said that development of Assam was high on his agenda as he kicked off the BJP campaign in here that goes to polls early next month to elect a new government.
"Our party has three agendas: development, speedy development and overall development," Modi said, addressing a rally in Tinsukia district.
"The Assam Chief Minister is very old. He says his fight is with Modi. I have a respect for him. My fight is not with (Tarun) Gogoi but poverty. I have no fight with anyone. I seek blessings from Assam," Modi added.
He urged the people to give the BJP a chance to rule the state for next five years and asked them to question what the current Congress government has done in the last 15 years of its rule.
"The people of Assam have the right to ask the government where their money went," he said, adding that "Even after the 60 years of our independence, not even a single electricity pole reached a few places. Around 2,000 villages in Assam were without electricity. We have sent funds for Assam's development. But everything is lying in the bank account."
Modi also hailed BJP chief ministerial candidate Sarbananda Sonowal, saying Assam will get a young chief minister if the BJP is voted to power.
"Please give me 5 years. Give Sarbananda Sonowal 5 years. BJP and our allies will make Assam prosperous," he said.
"Sarbananda Sonowal is one of the best ministers in my Cabinet. It will be a personal loss to me because he is going to be the next CM of Assam. There is only one 'ananda' in Assam i.e. Sarbananda," he added.
He announced that his party aimed at providing "education to the poor, employment to the youth and medicines to the senior citizens".
A total of 1.98 crore voters will elect legislators for the 126 seats contested in Assam. Polls will be held in two phases on April 4 and April 11.