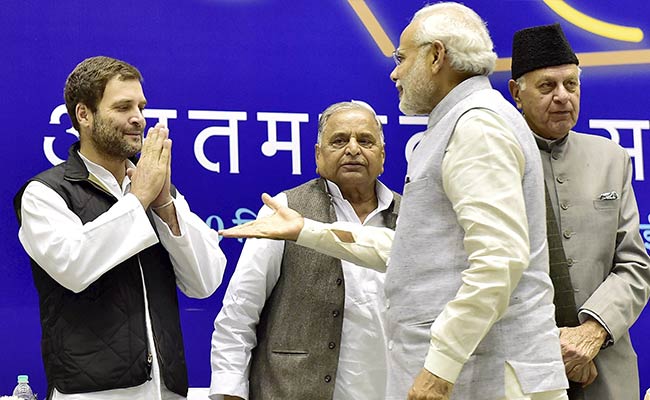 Taking a jibe at the Narendra Modi-led NDA government at Centre for the soaring prices of pulses, Congress vice-president Rahul Gandhi gave a new slogan- 'Arhar Modi, har har Modi'.
"A new slogan is being used nowadays, Har har Modi, arhar Modi! Arhar Modi, har har Modi," Rahul Gandhi said while concluding his speech in Parliament on price rise issue.
Hitting out at other schemes of the NDA government, Rahul said, "You can make false claims on Startup India, Make in India, but not on rising prices."
"I want to remind PM of a promise, a promise he made to the people of India, a promise he doesn't speak about, a promise Prime Minister Narendra Modi has forgotten about," Rahul said while in reference to Modi's promises during 2014 poll campaign.
"He had also promised that when the BJP government comes to power, it will bring down the prices of essential commodities," he said while giving a comparative statistics of prices during UPA and NDA rule.
In his first major intervention in the monsoon session, Gandhi said the price of pulses and vegetables have gone over the roof after the NDA came to power and the farmers have not been able to get any benefit of the steep rise in the price of these commodities.
Recalling Modi's speech at a poll rally in Himachal Pradesh in February 2014, Gandhi said while attacking the then UPA government over the issue, he had said said that 'ma- bachche raat raat rote hain, aasoon pee ke sote hain' (mother and child cry the whole night and sleep drinking the tears).
"What a dialogue," Gandhi said thrice, taking a dig at Modi who was not present in the House.
"I want to remind the Prime Minister of the promises he made to the people of the country during the poll campaign, which Modiji does not talk about now and has forgotten. He had also promised that when the BJP government comes to power, it will bring down the prices," Gandhi said.
Listing out the prices of vegetables and pulses, Gandhi said in 2014, the price of tomato was Rs 18, which has shot up to Rs 55 in 2016. Urad and tur dal, priced at Rs 70 and 75 in February 2014, has gone up to Rs 160 and Rs 180 this month.
He said there was a gap between the minimum support price for tur dal given to the farmers was Rs 45 whereas its price in the market was Rs 75. Now, the MSP has risen to Rs 50, but the price of the pulses was now Rs 180.
"So, there is a gap of Rs 130 in the NDA government. Where is this Rs 100 going," Gandhi asked.
Referring to Narendra Modi's speech during run-up to the General elections when he had said that he would be watchman, not a Prime Minister, Rahul said, "Modi ji had asked the people to choose a 'chowkidaar' (a watchman) and not a Prime Minister. Today, under that watchman's nose, pulses are being stolen."
"You have become a Prime Minister now, a big man. Why would you be a watchman now," he said.
He asked the government to give a date when the prices would come down. "Modi ji, you may make as many hollow promises as you want, but give a date to this House when prices of 'daal' will come down," Rahul said.