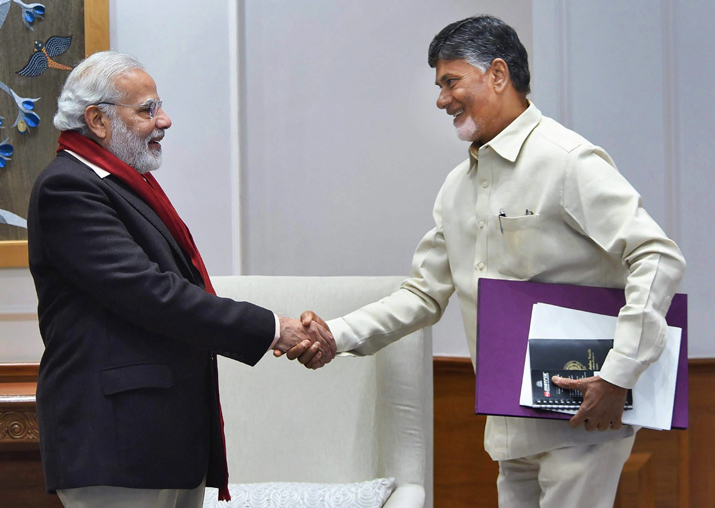 Andhra Pradesh Chief Minister N Chandrababu Naidu has reportedly turned down Prime Minister Narendra Modi's request to "reconsider" the Telugu Desam Party's decision to withdraw from the NDA government at the Centre, saying "things have crossed that stage".
Modi called Naidu over phone this evening and discussed the TDP's decision taken late last night over the issue of special category status to Andhra Pradesh, according to informed sources here.
During the telephonic talk, the prime minister asked Naidu to come over to New Delhi for a personal discussion but the latter did not respond to it.
"The prime minister asked our leader to come over to discuss everything in person. But Chandrababu said he cannot go now," a state minister said.
Naidu held a meeting with his ministers at his residence tonight after the phone conversation with Modi. The TDP chief told his party colleagues about Modi's request to reconsider their decision to pull out of the NDA government.
"The issue could have been resolved had we sat and discussed it," the prime minister reportedly told the TDP leader.
"We have waited patiently for four years (for special category status to AP) but ultimately we had to take the decision (to leave the NDA) in deference to the people's sentiment," Naidu reportedly said.
He said the people of the state were seething over Union Finance Minister Arun Jaitley's comments, which they feel were an "insult".
"The chief minister explained all this to the prime minister and why the TDP decided to leave the central government. The prime minister asked him to come to Delhi for a personal discussion to sort things out. Chandrababu only asked the prime minister to do something for the state since he had the authority," said Information and Public Relations Minister Kalva Srinivasulu.
The two TDP ministers in the government -- Civil Aviation Minister Ashok Gajapathi Rahu and Y S Chowdary -- met Prime Minister Narendra Modi this evening and handed over their resignation letters.
Meanwhile, Governor E S L Narasimhan has accepted the resignation of the two BJP ministers from the Chandrababu Naidu Cabinet.
Health Minister Kamineni Srinivas and Endowments Minister P Manikyala Rao tendered their resignation to the chief minister this morning following the TDP's decision to quit the Modi government.
The Governor allotted the two portfolios to the chief minister, an official order said tonight.