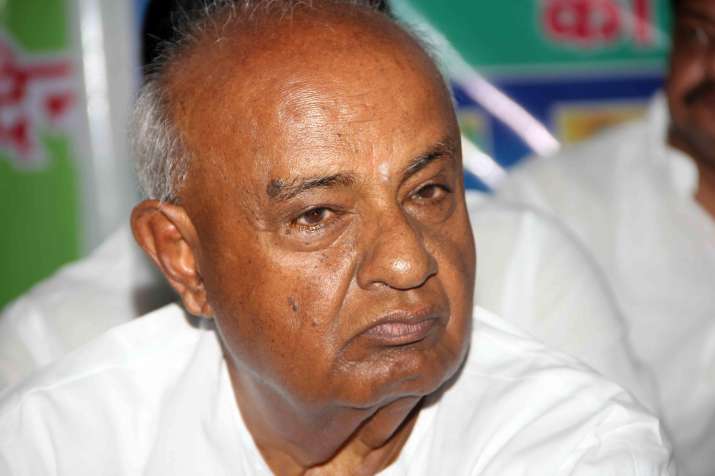 Former Prime Minister and JD(S) supremo H D Deve Gowda on Thursday said that six non-BJP parties may have attended the swearing-in ceremony of H D Kumaraswamy as Karnataka Chief Minister to present a united opposition face, but it is not necessary that they will contest together in all states in 2019 Lok Sabha polls.
"It is not necessary that the parties—which attended the swearing-in ceremony of Kumaraswamy as Karnataka CM—will fight together in all states," Gowda told media persons in New Delhi.
Top leaders of the Congress, TMC, BSP, AAP, CPI (M) and TDP had attended Kumaraswamy's swearing-in ceremony last month in Bengaluru. 
Gowda said the Samajwadi Party and BSP are discussing sharing 40 seats each in general elections in Uttar Pradesh. 
"In Karnataka, we will fight with the Congress despite having small issues with them," he said. 
However, Gowda refused to comment when asked about remarks made by former CM and Congress-JD(S) coordination committee chairman Siddaramaiah that the current Karnataka government will survive for only an year. "It is his feeling," he added. 
The seat-sharing for 2019 Lok Sabha polls has not yet been decided though there are rumours that Congress will fight from 18 seats and the JD(S) will get the rest 10 in Karnataka. 
"So far, there has not been any discussion on this issue... Congress chief Rahul Gandhi and Kumarswamy will discuss and finalise that," he said. 
Gowda also said his party was willing to give away one Parliamentary seat in Karnataka to its ally BSP. "In return, I will ask BSP to give one seat in Uttar Pradesh to Danish Ali (who is JD-S Secretary General). In Kerala, LDF will give one seat to us," he added. 
The JD (S) leader said he will be meeting non-NDA leaders in "coming days".
 
Noting that Modi and BJP President Amit Shah are indicating about holding simultaneous polls, Gowda said there is a need to form a third front at the earliest. 
"Going by the signal they are giving to states, there is a greater possibility of early polls," he said, adding the Monsoon session of Parliament could be the last session. 
(With PTI inputs)