Follow us on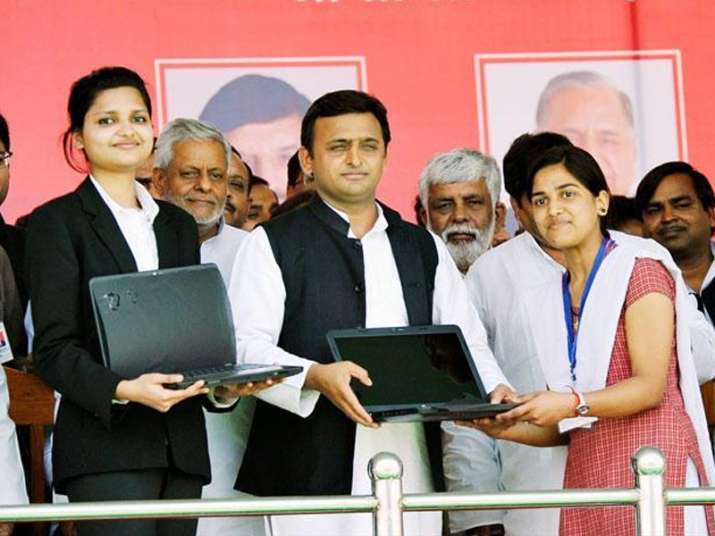 The previous government of Akhilesh Yadav's ambitious project 'Free Laptop Distribution Scheme' has come under the scanner of the Yogi Adityanath government in Uttar Pradesh.
According to an RTI reply, it has emerged that there were major gap in procurement of laptops and their distributions among the students. 
It is said that the Akhilesh Yadav government had purchased around 15 lakh laptops but distributed merely 6 lakhs. The fate of rest of over 8 lakh laptops is not known, as of now. 
The government has now taken note of the matter very seriously and ordered a through probe.
"I have directed the officials to look into the matter. I assure you that appropriate action will be taken once the report is tabled," MoS for  Basic and Secondary Education Sandeep Singh told India TV. 
It has also come into light that post poll verdict last month, the caretaker government had on March 16, just three days before the new BJP government was sworn in, had ordered the purchase of 71,875 new laptops for Rs 13,490 each and made a payment of Rs 97 crore to the company that was given contract.
The RTI reply further stated that between 2012 and 2014, the government had purchased a total of 14,81,118 laptops (2012-13 -- 9,989 laptops and in 2013-14 -- 14,71,129 laptops). In 2014-15, no laptops were purchased. However, only 6,11,794 laptops were distributed among students. 
In Agra, a total of 38,615 laptops were delivered, but only 16,638 laptops were distributed. Likewise in Allahabad, the government had decided to purchase 69,395 laptops, but 20,341 laptops were distributed. 
For Ambedkar Nagar, 40,177 laptops were purchased but 7,218 were delivered to the students. In Amethi, 13,165 laptops were delivered but 3,820 laptops were distributed. 
In Azamgarh and Etawah, 43,011 and 13,415 laptops were purchased, but only 10,099 and 10,645 laptops were distributed, respectively. 
For PM Narendra Modi's Lok Sabha constituency Varanasi, the government had purchased 28,680 laptops but only 15,410 laptops were distributed. 
In Kannauj district, the government had 13,831 laptops, but officials distributed only 5,605 laptops. 
Shantanu Gupta, RTI activist, said that when he raised the matter with government officials, he was told that the data provided to him was not updated.
"How can this happen? If data of 100-150 laptops were not updated, we can understand… but here the government has no information about more than 8 lakh laptops," he said.
Former Uttar Pradesh CM Akhilesh Yadav had in 2012 launched 'Free Laptop Distribution Scheme'. Under this scheme, the government had decided to provide free laptops and computer tablets to the students in the state who pass the high school and intermediate examinations to encourage them for higher studies.
According to the erstwhile state government data, a total of 15 lakh laptops were distributed by between 2012-2015.