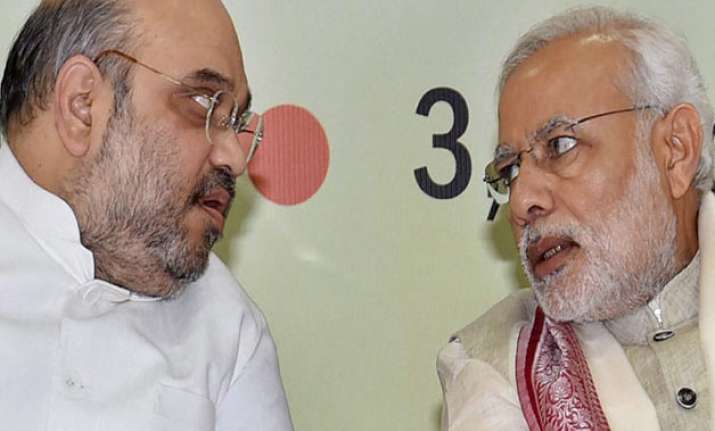 New Delhi: Ahead of Assembly polls in five states, the BJP national executive is all set to meet here for two days starting Saturday.
Elections to five state Assemblies in April-May will reportedly be part of the deliberations during which Uttar Pradesh, which will go to the polls early next year and where BJP's stakes are high, may also figure.
The official Twitter account of Bharatiya Janata Party also tweeted about it.
Top party brass, including Prime Minister Narendra Modi, Amit Shah and senior leaders and ministers, will participate in the deliberations in which political and economic resolutions will be adopted, sources said.
The "pro-poor and pro-village" budget will be at the centre of the economic resolution, they said.
Shah will deliver the inaugural speech while Modi will deliver the valedictory address.
Sources added that the "disinformation" campaign by Congress to "defame" the government, the Ishrat Jahan and JNU rows besides the budget features will be the key issues on the agenda, as per PTI.
"The opposition, especially Congress, has been exposed in the last 20 months over a host of issues, be it returning of awards by a section of intelligentsia or JNU row where it chose to side with anti-national forces. These will come up for discussion," a party leader said.
The need to inform the masses about the "pro-poor and pro-village" aspects of the budget will be stressed upon at the meeting, party sources said, adding that Finance Minister Arun Jaitley will be the main speaker on the issue.
The party's office-bearers will first meet and the much-larger executive will go into a huddle in the afternoon.
The event will provide the party yet another opportunity to project its hardline nationalist credentials in the wake of the JNU row.
All top party leaders, including Shah, had hit out at Congress, particularly its vice president Rahul Gandhi, over the issue at a Bharatiya Janata Yuva Morcha convention recently.
"We believe that the issue has highlighted Congress' increasing ideological hollowness and that it can take up any cause in its desperation to target the government," sources said.
The recent revelations in the Ishrat Jahan encounter case will also provide ammunition to the party to attack Congress. 
(With PTI inputs)