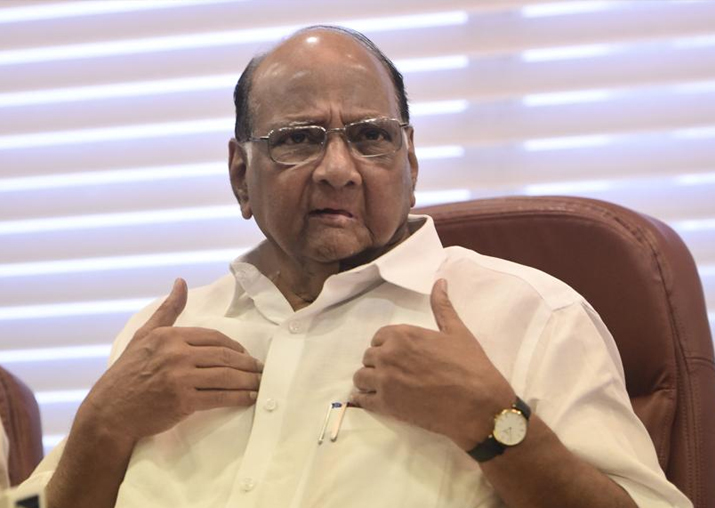 Nationalist Congress Party (NCP) president Sharad Pawar feels that the Congress is the only party in country that has ability to challenge the ruling BJP.
Replying to a question asked by MNS chief Raj Thackeray during an interview here on Wednesday, Pawar said that the grand old party's 'acche din' will come.
He said that Congress chief Rahul Gandhi had a challenge at hand to revive the party, adding that the Gandhi scion's willingness to learn and understand issues and engage people in a dialogue would stand him in good stead.
"In the past, the Congress had a strong organizational presence in the districts, states and all over India. That is not so now... the party is changing. However, even the (Congress President) Rahul Gandhi is also changing. He is willing to learn," Pawar said.
"Only the Congress can give a challenge to the Bharatiya Janata Party. With Rahul maturing and learning, I think 'achhe din' will dawn for the Congress," he said.
"If the people support him (Rahul), the Congress stands a good chance. There is a need for a strong opposition in a democracy and the fact is that there is no alternative to the BJP apart from the Congress," he opined. 
Pawar had served as the CM of Maharashtra on three separate occasions. He had also held the posts of Minister of Defence and Minister of Agriculture in the Government of India. 
When Thackeray asked if is "hazardous to speak the truth in politics," Pawar replied, "It is imperative to be truthful in politics, but when there are difficulties, it is better to keep quiet."
In an indirect barb at Prime Minister Narendra Modi, Pawar said irrespective of differences in political ideologies, "elders must be accorded respect always" and said that the recent attack on India's first Prime Minister Pandit Jawaharlal Nehru "was not proper."
He pointed out how former Prime Minister Atal Bihari Vajpayee had set principles in political life - "which is lacking now," and compared how when Modi was the Gujarat Chief Minister, he "used to make personal attacks on (then) Prime Minister Manmohan Singh".
"That was the reason why Congress Chief Ministers were bitter about Modi, but I used to intervene to sort out issues," Pawar said.
Pawar advocates for reservation on economical grounds 
On reservation issue, Pawar, who hails from the town of Baramati in Pune district, said, "Reservation is a very sensitive issue. Dalits and Adivasis should definitely get reservation, there is no doubt in this. But at various locations, people belonging to different castes are taking out rallies for reservation. I strongly believe that today, reservation shouldn't be based on caste but the economic conditions of individual and families."
Replying to a question, Pawar said responsible leaders should think of the country as a whole and "not just Gujarat or Ahmedabad". "Why does Modi take all foreign leaders only to Gujarat? Why can't he show them all other states, including Maharashtra?" he asked.
To a question by Thackeray if Modi - who once described himself as a student of Pawar - listens to the NCP chief, Pawar replied, "I have amicable relations with Modi. I advised him many times, but he never heeded me anytime."
"Modi has the ability to work hard but running a state and governing a country are very different. For managing the country, you need a team which is lacking for Modi," he added.
He expressed concern how, in recent years, casteism is raising its head, "but it will not survive for long" and advised Thackeray to propagate the principle of his uncle (the late Shiv Sena founder Bal Thackeray), who never believed in caste, creed or community, but was a staunch nationalist.
When Thackeray asked whether the proposed Bullet Train was intended to break off Mumbai from Maharashtra, Pawar replied "as nobody will go from Maharashtra to Gujarat, the Bullet Train will lead to overcrowding of Mumbai."
Pawar disapproves of PM's criticism of Jawaharlal Nehru 
Lamenting that personal attacks had become a trend in the country's politics, Pawar disapproved of Prime Minister Narendra Modi's criticism of Jawaharlal Nehru in Parliament.
He was referring to Modi's reply on the motion of thanks to the president's address to a joint sitting of Parliament.
"Criticising policies is okay. But I cannot agree to a statement that Nehru had no contribution in the country's development or in strengthening its democracy. If democracy was introduced in the 12th century, the British also ruled us after that and we were slaves," Pawar said.
The former Union minister recalled that late Yashwantrao Chavan always used to say that Nehru was responsible for making India a strong democratic nation.
He also said former prime minister Atal Bihari Vajpayee had immense respect for individuals, irrespective of ideological differences.
Pawar said political leaders from Maharashtra, from the time of Yashwantrao Chavan, had always put the nation first.
To a question from Thackeray on why leaders from the other states did not do the same, the NCP chief admitted that Maharashtra had to bear the brunt at times due to its approach of putting nation above regionalism.
He also said that the demand for statehood for Vidarbha must be resolved through a mandate of the people.
Calling the Mumbai-Ahmedabad bullet train unviable, Pawar said nobody would go to Ahmedabad and Mumbai would be overcrowded.