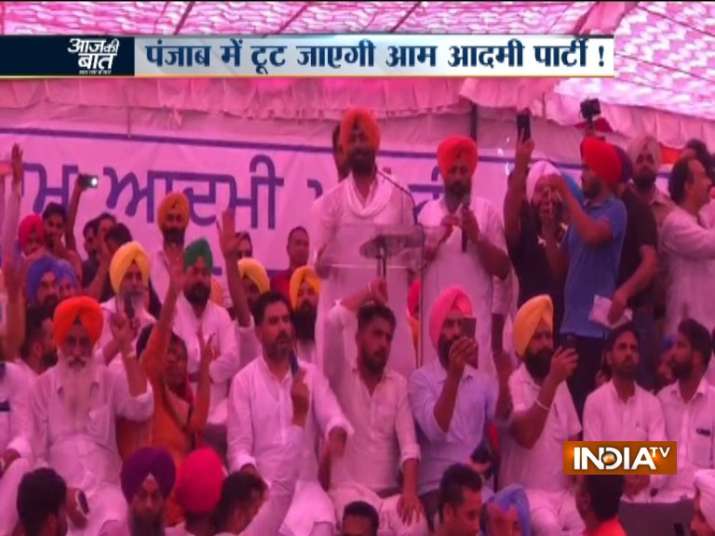 The Punjab unit of the Aam Aadmi Party (AAP) is facing serious threat of split in the state.
In a show of strength, former Leader of Opposition (LoP) Sukhpal Singh Khaira organised a public meeting at Bathinda on Thursday​ which was attended by 6 other AAP MLAs.
The AAP has 20 MLAs in the Punjab Assembly.
The rebel MLAs declared the party's Punjab unit "autonomous" and "dissolved" its current organisational structure.
Khaira made it clear that the Punjab unit will no longer tolerate Delhi's interference.
Rejecting the appointment of the new Leader of Opposition in the Assembly, Khaira said that the party will be structured afresh.
Watch: AAP on the verge of split in Punjab
He also gave a week's time to the leadership in Delhi to review its decision to remove him from the post of Leader of Opposition in Punjab Assembly.
He has called meeting of the party leaders next week.
Khaira turned rebel after the AAP removed him from LoP post on July 26.
Khaira proposed forging a third front of like-minded parties to rid Punjab of the Congress and the Akali Dal as they had "ruined the state."
"Power and money are in play in Punjab politics today," he said.
He said he will start his "journey" by seeking blessings at the Golden Temple in Amritsar and will visit all 22 districts in the state.
Rallies will be organised at various places, he said.
Khaira has started canvassing party MLAs in his favour and he displayed his power today with the presence of Kanwar Sandhu, PS Khalsa, Jagjit Jagga, Jagdev Singh Kamaloo, Baldev Singh Jaito and NS Mansahiya at Bathinda rally.
Meanwhile, keeping in mind the rebellious attitude of Khaira, the central leadership of the AAP summoned MLAs of Punjab unit in Delhi on Thursday. The party also threatened to take action against those attending Khaira's public meeting.
However, only 11 of them reportedly came to meet the leaders in the capital.
The Delhi leadership seems to have gone on backfoot after Khaira's show of strength.
The new LoP in Punjab Assembly said that the party will talk to Khaira and try to win him back.