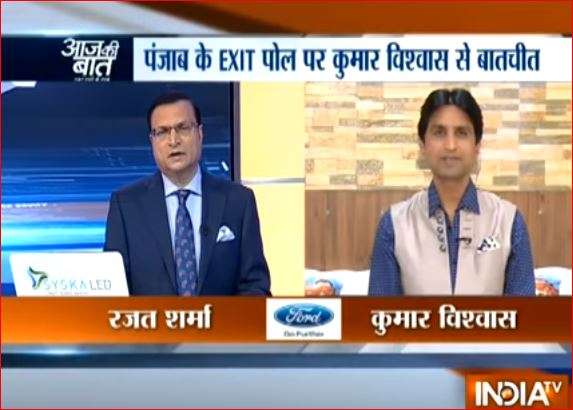 Refusing a direct answer to a question on whether Arvind Kejriwal will be the next Chief Minister of Punjab in case the Aam Aadmi Party (AAP) wins the Assembly polls, as predicted by a majority of the exit polls, senior party leader Kumar Vishwas said that the elected legislators will take a final decision in  this regard.
"The elected MLAs of AAP will decide on the Chief Minister's name after due consultation with the top leadership of the party," Kumar Vishwas told India TV .
When reminded that both Parkash Singh Badal and Captain Amarinder Singh have accused Kejriwal of eying the Punjab CM's post, Vishwas said that it only reflected how fearful they were of the Delhi Chief Minister. 
Vishwas further said that the AAP will form the next government in Punjab with full majority, as predicted by most of the exit polls.
Responding to the claims of Punjab Congress Chief Captain Amarinder Singh that his party will form the next government in the state, the AAP leader said that he advises him to be realistic and start preparing for playing the role of a constructive opposition. 
Kumar Vishwas also took a jibe at the incumbent Chief Minister Badal for claiming that pollsters will be proven wrong once again as it happened in 2012 and that the Akali Dal-BJP alliance will return to power.
"He has played a long innings, good or bad, in politics. Now, it's time for him, even age-wise, to opt for political retirement," Vishwas said.
According to India TV-C Voter Exit Poll, AAP is likely to get 59-67 seats in the 117-member Assembly while the Congress is predicted to win 41-49 seats. The Akali Dal-BJP alliance is likely to emerge victorious in 5-13 seats only.
Most of the exit polls are unanimous that in Punjab, it's a neck-to-neck fight between AAP and Congress with the Akali Dal-BJP alliance at the third position.